People Get Ready in 528Hz : Test the Difference and Put a Smile on Your Face!
PEOPLE GET READY in 528Hz on VIMEO.COM

: TEST and "FEEL" THE DIFFERENCE 528 MAKES IN MUSIC, RECORDING ARTISTRY, PUBLIC HEALTH AND YOUR LIFE.
THIS FUN TEST WILL TAKE YOU ABOUT 6 MINUTES TO PERFORM (and is guaranteed to put a smile on your face). HERE ARE YOUR INSTRUCTIONS:
OPEN THE FOLLOWING 2 LINKS IN 2 SEPARATE WINDOWS:
1) https://vimeo.com/126965946
3) Compare the two versions of People Get Ready by stopping and starting the beginning of Jeff Beck's guitar intro. Most serious music lovers "feel" a difference right away between the two versions.
Which version sounds better to you? Which version feels better to you?
(Note: The difference is not simply attributable to differences in the data density affecting the quality of the sound. The difference is "felt" in the clarity of the music, because C=528Hz happens to be the heart of the musical-mathematical-matrix of creation. Alternatively, "standard tuning," in A=440Hz, feels "flat," "less alive," "dead."
To put a smile on your face, complete the test, and see if you get a "rush," "shivers," "goosebumps," or "frisson" (as it is called in musicology) by listening to the complete 528Hz remastered track.
_______________________________
The "528 PEOPLE GET READY" music video is really a gift from Dr. Horowitz for your awareness and well-being. Share this spiritually-uplifting "medicinal music" with your friends and loved ones. Music lovers, including serious audiophiles and studio engineers, will enjoy this gift and "musical feeling" difference. Health lovers will also enjoy the healing difference in 528Hz music. This secret sacred truth about music shall set us free, since this "smile test" resonates at the core of your spiritual well-being.
"We are the music," Dr. Horowitz says, and this is the music of LOVE/528. Love yourself. Appreciate this gift. Smile! Administer this test, and spread this knowledge, to secure a brighter future for civilization.
WIDESPREAD WILD FEEDBACK
ON "BONO GOES 528!"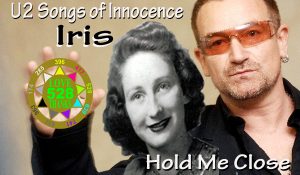 In an April, 2015, Healthy World Newsletter, the announcement that U2 and Bono used 528Hz to record the theme track for their "Songs of Innocence" album generated a lot of controversy, and very strong feelings.
Most people were delighted that "LOVE/528" is finally receiving its deserved attention from famous recording artists, such as Bono. Others voiced serious reservations, and some gross outrage, since Bono "sold out to the drug and chemical cartel" (based on his previously published endorsements of Monsanto). CLICK HERE to read the view shared by Dr. Horowitz on this matter, written by a third party concerned citizen and music lover.
Assuming (arguendo) that Bono "sold out." Does that condemn: 1) Bono from ever awakening and repenting? and
2) Civilization from ever awakening and positively evolving?
Anyone who seriously studies 528Hz, and Dr. Horowitz's monumental Book of 528: Prosperity Key of LOVE, comes away with the BIGGER PICTURE AND LARGER QUESTION:
"If LOVE/528 is our predestined future, prophesied to secure a thousand years of world peace; and every leader in geopolitics and global economics shall come to LOVE/528–the "Key to the House of David," as prophesied in Isaiah 22:22 and Rev. 3:6-8; then who, or what, shall cause the Illuminati to change? What force shall motivate the oligarchy to evolve most positively? What shall cause the military-medical-petrochemical-pharmaceutical-banking cartel to choose a healthier more sustainable way to conduct business in an optimally free world; so that everyone may live beyond mass-mediated fears, imposed plagues, contrived wars, jealous competition, and omnicide?"
In the Book of 528: Prosperity Key of LOVE, Dr. Horowitz uses simple logic, physics, electrogenetics, musical mathematics, sacred geometry, and behavioral science, to suggest the only possible way this miraculous transformation in geopolitics, economics, and metaphysics shall occur is by musicians and music-lovers outputting LOVE/528.
Like a pebble thrown into a pond, when you play music resonating 528 cycles-per-second, the waves touch people on the farthest shores, everywhere. Those subliminal signals are subconsciously heart-warming, optimally-inspiring, and positively addicting. The LOVE/528Hz frequency reconnects you to your natural holy-spirit-filled essence–the LOVE/528 resonating at the center of your heart, and the heart of nature, universal construction, and human kindness. That "holy spirit power" inspires reasonable responsible empathy to end human suffering, environmental destruction, many species extinctions.
But you need to throw those "stones"– broadcast those good vibrations–into the quantum field connected to the media.
Only this "key," and related humanitarian and healing activities, holds the potential to save civilization from self-destruction, Dr. Horowitz opines and evidences.
For this reason, despite what Bono did, or didn't do, that may or may not please you, Dr. Horowitz's message and mission of LOVE/528 transcends debate on Bono's position on Monsanto. That company, as Dr. Horowitz instructs, is owned by the Pfizer drug company. These corporations commercialize in genetically mutating killer viruses for deadlier "outbreaks" and more toxic vaccinations. (See the linked articles below.)
Contrary to criticism we received from some subscribers for simply mentioning Bono's name, if you have not yet watched Dr. Horowitz latest blast against the "PHARMAWHORES"– Sen. Josh Green, M.D., and U.S. Bio-Surveillance, Bio-terrorism, and Emergency Response expert, Dr. Sarah Park, Chief Epidemiologist and Infectious Disease agent for the State of Hawaii–CLICK HERE to view the PBS broadcast now.
Also, CLICK HERE to view Dr. Horowitz's recent interview by world famous Guinness Book of Records holder, Dr Biswaroop Roy Chowdhury, from India, concerning these matters of "iatrogenocide.")
Dr. Horowitz, Sherri Kane, and the Healthy World Staff do hope Bono-haters will find it in their hearts to forgive us for being happy that U2's new album features the theme track Iris, recorded in 528Hz. Please forgive us for celebrating Bono's use of 528Hz to deliver a message of love to his deceased mother. Please forgive us for expanding our "consciousness" to recognize the perfect frequency to send love universally is 528Hz. And please try to understand that God uses everyone, demonically-possessed, or peacefully-enlightened, to facilitate the balance and fulfill our destinies.
DR. HOROWITZ's SWORN OPEN AFFIDAVIT TO THE FBI REGARDING THE ORGANIZED CRIME ONGOING IN THE THIRD CIRCUIT COURT IN HAWAII, and EFFORTS TO STEAL THE DOCTOR'S PROPERTY
Naturally, some of you will ask, "What the hell is Horowitz doing, giving the FBI an 'open affidavit' in the hope of saving his property?" Read the many articles on PaulSullaFraud.com, and legal filings on PaulSullaCensured.com, to get your answer. . . .  (Also check out the latest judicial corruption article by CLICKING HERE.)
In a nutshell, if a gang of organized criminals led by corrupt lawyers were stealing your house using obviously forged documents, and you filed numerous police complaints to no avail. And the local prosecutors repeatedly neglected, even "lost" the filings that the police investigators' repeatedly turned over to the prosecutors to issue indictments. And even the judges were implicated in evidence tampering, witness tampering during trial, and obstruction of justice, while persecuting and maliciously prosecuting you and your loved ones. And then, to make matters worse, your evidence of the forgeries and crimes were repeatedly concealed when you went to court, and you were constantly prevented from bringing your counterclaims, what would you do about your railroading?
In fact, several honest local police officers advised Dr. Horowitz that, under the circumstances, the FBI is his only remaining option.
Thus, the doctor asks everyone to help with prayers, and more. If you know a high level FBI official, contact them for help. Spread these outrageous facts about Dr. Horowitz's persecution by Hawaii lawyer, Paul J. Sulla, Jr., complicit co-counsel Stephen D. Whittaker, and the Third Circuit Court judges you can read about HERE. And get the word out about what this is really about. . . .
Petrochemical-pharmaceutical mob bosses persecuted Nicola Tesla, and deprived him of his rights and property, didn't they? Last century's greatest genius, Tesla, died demoralized and penniless. The same tactics were used against South Africa's civil rights leader Nelson Mandela, who was succeeded by Thabo Mbeki, who adopted Dr. Horowitz's HIV research to administer the country's AIDS policies. Did the forces of evil also persecute and deprive Martin Luther King, Jr.? Was John Lennon assassinated for "giving peace a chance" after recording Imagine in 528Hz frequency. How many alternative medical doctors, and drug company whistleblowers have been libeled, marginalized, and neutralized, like Dr. Horowitz? And how many journalists have been assassinated for publishing far less than what Dr. Horowitz has made world famous.
Dr. Horowitz needs a "third party litigation financier" at this point to acquire competent legal aid to combat this unGodly corruption causing more than $6 million in damages. An honest and aggressive lawyer needs to be found and funded to defend Dr. Horowitz's property and reputation against the thugs working to steal both.
So, if you appreciate Dr. Horowitz's work in the world, and you can help us secure a "third party financier" to invest in this litigation for all the right reasons, and help us commission a Hawaii or California licensed lawyer to file for damages in federal court, your contributions would be greatly appreciated.
After viewing Dr. Horowitz's video affidavit, lawyers and potential litigation investors can see that this case can be won on the merits, given the astonishing and compelling material evidence already gathered and the trail of forgeries the villains left behind. Tell potential investors and lawyers to view this open affidavit to the FBI. And please have helpful people contact Dr. Horowitz by e-mailing editor@medicalveritas.org.
Thank you,
Healthy World Staff,
and everyone at 528Records.com and 528Radio.com
FEEDBACK:
Hi Revolution Television,
Becky Newlin commented on your video, People Get Ready in 528Hz Video:
"  When I first opened the email I was feeling very stressed out, nervous and a bit shaky. I wasn't really in the mood to listen but I decided to give it a try. As soon as the guitar began playing I felt like the very molecules of my body began to vibrate … I am totally NOT exaggerating. Thought maybe I was imagining it until I listened to the other selection … NOTHING!!! NADA!!! This is incredibly amazing. I want to take it with me wherever I go. As someone who takes a lot of medication for pain and anxiety (Fibromyalgia) I believe this is God's source for healing … just like David's playing soothed King Saul. It's supernatural and I want more of it!!!!!!!!!!!!!!! Thank you Dr. Horowitz for all you do!!! I've been following you for over ten years … God bless you richly!!!
Visit your video:

Love,
Vimeo