Jay Z Does 4:44 Album in A=444Hz/C=528Hz Harmony with "LOVE 528" at Center of Music Industry Controversy

Mystery, Conspiracy, Sellout, or Holy Spiritual Awakening? Jay Z's 4:44 Apology Album: An "Anti-Ego" Catharsis for Beyonce's Forgiveness and More. . . .
________
Research Proves 4:44 was Recorded in A=444Hz/C=528Hz "LOVE Tuning." This Raises Questions About the Producer, "No I.D.", Executive Vice President at Capital Records, Owned by the Universal Music Group.
________
"Who's Making the Money?" And Why the Secrecy Over This Special '444' Frequency?
A Special Research Report, Analysis, and Opinion by
Dr. Leonard G. Horowitz
pioneer of the A=444Hz/C=528 "LOVERevolution," 528Records.com, and 528Radio.com
CHICAGO (July 11, 2017)–The world of entertainment, especially the acoustic arts and sciences, are abuzz over Shawn "Jay-Z" Carter's instant hit album titled "4:44," produced entirely "by Chicago studio wizard "No I.D." (real name is Ernest Dion Wilson, recently named an EVP at Capitol Music Group)," according to Variety.(1) Now musical-mathematical research by this author proves the 4:44 album, promoted to fuel a revolution in the music industry promising recording artists more "equitable compensation," was produced in the special "LOVE tuning" of A=444Hz/C=528Hz.
These facts raise fascinating and controversial questions about the mix of Jay-Z's "anti-ego" lyrics and corporate involvements. Could there be a secret war being waged in the hearts vs. minds of people, evidenced by Jay-Z's lyrics, extending to the music industry between parent production company–Universal Music Group–and the financial, social, and political interests in Jay-Z's new subscription-streaming experiment? And what side is Jay-Z's Tidal company really on (2) with its upstart co-investor, Sprint? (3)  In any case, the key to unraveling this mystery asks what is A=444Hz that plays C=528Hz throughout the '4:44' album? Who wants this knowledge known, or alternatively suppressed? And who is actually making the money?
Introduction
"Are we witnessing an actual change of heart in the music industry with the curious selection of A=444Hz frequency tuning for Jay-Z's '444' album, produced by "No. I.D." to match Jay-Z's 4:44 epiphany, change of heart, ego death, Beyonce forgiveness pleading, or something more?"


I asked myself this reasonable question as the pioneer of the A=444Hz/C=528Hz revolution overtaking the music and medical industries. This revolution began in 1998 with the publication of Healing Codes for the Biological Apocalypse wherein it was made known that A=444Hz broadcasts at its heart the C=528Hz "'MI'racle" frequency of the ancient original Solfeggio musical scale.

I am also curious as the co-creator of 528Records.com that is a publicly-supported alternative commercial model for music industry streaming, developed to increase industry-wide integrity, artist compensation, and provide a healthier broadcasting frequency. We now produce and stream "medicinal music." We freely remaster old tracks online (i.e., transpose older A=440Hz tracks and albums to A=444Hz/C=528Hz) using our dedicated server and costly transposition software. Our software transforms MP3s originally recorded in A=440Hz "standard tuning" into the healing frequency of "LOVE/528." Alternatively, artists can upload original A=444Hz/C=528Hz recordings to receive a 60 percent royalty on public donations paid for their works, with suggested donations being competitive with industry standards.
We also teach artists how to tune to A=444Hz, and thereby produce not only a public educational service, but also "heart opening" spiritually-uplifting therapeutics. Like pebbles thrown into a pond, our C=528Hz "medicinal music" streams therapeutic value in waves reaching the farthest shores–people's hearts everywhere–in this age of political, economic and healthcare crises.
In other words, LOVE–"The Universal Healer" resonating in "LOVE 528 frequency" that is exclusively obtained when artists tune their instruments and voices to A=444Hz. Thereby, their C(5) on the piano produces 528Hz music optimal for love, social accord, and miraculous spiritual healing.
Alternatively, without presumably considering my nearly two decades of music industry contributions, transformational research, hundreds of articles published online, celebrity artists such as Bono with U2 recording featured tracks, such as Iris (Hold Me Close, in loving memory of his mother) in A=444Hz/C=528Hz, and even my Book of 528: Prosperity Key of LOVE and feature-length documentary available titled The 528 Key Movie that heralds and explains this special A=444Hz/C=528Hz "miracle tuning" relationship, Jay-Z claimed that he suddenly awakened not from my works, but from a dream at 4:44 in the morning.
Jay-Z's "awakening" caused Beyonce's spouse to spill his guts out in lyrics effecting a holy spiritual purging of negativity within his person, concerned more now than ever about senseless aggression, violence, his family and society–the war reflected in "man's inhumanity to man" pitting loving faith-filled hearts against fearful, terrorizing, ego-possessed minds.
Is Jay-Z's 4:44 a.m. awakening believable?
I say it is.  In fact, I've heard something like this before. . . .
In 1998, the Honorable Jabril Muhammad, a favored student of the Honorable Elijah Muhammad who founded the Nation of Islam (in America), and spiritual advisor to the Honorable Minister Louis Farrakhan, similarly awoke from a dream in which a voice said, "Jabril! Wake Up! Turn the radio on." He called me the next morning to relay this story after hearing me on Coast-to-CoastAM radio being interviewed on the man-made origin of AIDS.
"Dr. Horowitz," Jabril said, explaining his dream. "Years ago the Honorable Elijah Muhammad prophesied to me. He said that one day a white man was going to come and explain why so many of our people are dying from a great plague. I believe that you are that man, and AIDS is that plague."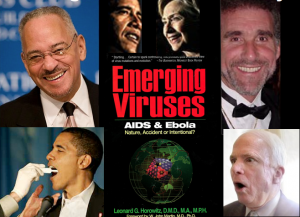 A few days later I broke bread in Chicago with the Honorable Minister Farrakhan, and the Nation's Health Minister, Alim Muhammad, who invited my presentation at the annual Savior's Day conference on the book, Emerging Viruses: AIDS & Ebola–Nature, Accident or Intentional? Several years later, in 2008, my book was recommended by President Obama's pastor, Rev. Jeremiah Wright. He said it was required reading for anyone earnestly concerned about the African-American AIDS genocide. I subsequently introduced Minister Farrakhan, who is an outstanding classical violinist, to A=444Hz/C=528Hz tuning with the book Healing Codes for the Biological Apocalypse. With what we now know, this "LOVE tuning" can and will heal the world, beginning with intelligent informed musicians, music lovers, medical doctors, and spiritual leaders.
Accordingly, I have both personal and commercial interests in this subject and the number "444" that is deeply rooted in Judeo-Christian as well as Eastern theologies, as several scholarly researchers have affirmed in support of my work and their own revelations during the past two decades. Many investigators conclude 444 represents "the perfect love" and "Jesus's number."
So Jay-Z's spiritual awakening at 4:44 a.m., album title, and 444 featured track at the heart of the album, are perfectly symbolic, and they complement the frequency of A=444Hz selected to broadcast his message of love at the heart of the original musical scale–LOVE 528Hz–the "MIracle" note of the ancient Solfeggio. This kind of activity, in my professional opinion, provides the only hope for civilization's "awakening," physical salvation, and spiritual evolution out of the darkness of ongoing genocides, the mystery of these frequencies, and this conflict of man against himself.
No I.D. at Capitol Music Group Produced 4:44 in A=444Hz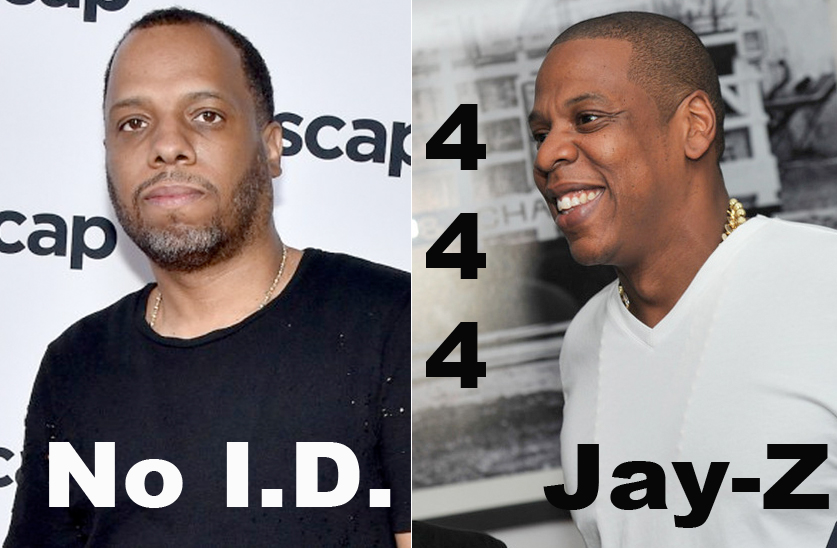 This secret is now out of the bag. No I.D. and Jay-Z produced 4:44 in A=444/C=528Hz–the original classical music "concert tuning." They chose A=444Hz instead of the much more commonly accepted Rockefeller Foundation 1938-39 institutionalized A=440Hz "New World," "Master Race," "standard tuning."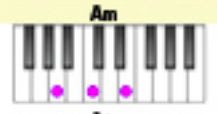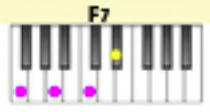 After directing the recording artists in Capitol Music Group's studio in Chicago to tune to A=444Hz "concert pitch," No. I.D. engineered Jay-Z's recording in the key of F-major-7, alternating with A minor. All of this celebrates C=528Hz, that is "LOVE 528" at the heart of these chords as shown here.
Here's proof. Click the player below and you will first hear the C=528Hz pure tone, then Jay-Z's 4:44 featured track at the heart of his album. Listen carefully for the harmonic quality of the C=528Hz overtone in the F7 and A minor chords. They blend harmonically.
You can further evidence and prove this harmonic association for yourself if you play an instrument. Tune it to A=444Hz, and begin playing along with Jay-Z. Begin with the track by playing F-major-7, and alternate with the A minor chord. You will see these two main chords are played throughout the song.
Further testing will prove to you that C=528Hz is beautifully harmonic with Jay-Z's whole album. And this makes sense from a creative artist's loving and healing intention. A=444Hz/C=528Hz is best suited for emotional healing and purging negative thought patterns, because C=528Hz is the foundation, the beginning and end (the alpha and the omega), of the octave established by setting your tuning to A=444Hz frequency.
Then, C=528Hz energetically predominates and harmonically blends with most of the scale. That is, the "good vibration" of "LOVE/528" (the "Universal Healer") musically-mathematically or spiritually-energetically controls and/or moderates the rest of the symphony. Love, after all, incorporates the endless fountain of creative inspiration and recording artistry, and pure mathematical science as well.
And isn't that what Jay-Z and No. I.D. have done here with 444's creative artistry blended with acoustic science? They created an album with multiple miraculous intentions, including Jay-Z's clearing of emotions and feelings of guilt and fear in strained relations with Beyonce, fellow artists, and music industrialists. They produced an album prescribed to similarly purge civilization's ego-centrism and multinational corporate greed (purportedly). Their claimed intention was to produce a music industry leading collaboration heralding a new commercial model, an album optimally freeing and equitably enriching for artists and audiences alike?
Contrary Evidence in Corporate Associations
But therein lies the rub, mystery, and controversy. Who's making the money?
Most intelligent Americans, as well as people overseas, perceive the power of multi-national corporations controlling virtually every industry, fattened by greed, pressuring every country to submit to economic pressures. This is similarly so for controlled Hollywood celebrities and the recording industry.
Will Jay-Z and his corporate interests in Tital and Live Nation, joined by Sprint, actually succeed against these odds?  Or has he and No. I.D. already "sold out" under the influence of their investments, lacking faith, bad judgment, and misplaced trust in the NBC Universal/Capital production conglomerate outputting 4:44 and other products?
Or are we witnessing the beginning of the end of insatiable greed and criminal psychopathology dominating multinational corporate boardrooms leaving infected billionaires empty and sad. Have they actually come to terms with their own mortality and suddenly found meaning in life through loving social service?
Will Jay-Z's good intentions remain pure? Will artists be equitably paid? Not simply abused, later abandoned, and ultimately forgotten as the next generation of hypnotronically-entranced experimental audiophiles are vibrationally seduced to become "fans" of the latest fads, "models," technologies, and celebrities, all effectively made slaves through media propaganda and its competitive (uncooperative) CULTure.
Isn't this the untrustworthy and damaging "commercial scene" that rappers and punk rockers generally protest in their lyrics?
Although I am encouraged by the choice of good vibrations the 444 album promotes, I am discouraged by the production and promotions alliance controlling Jay-Z and No I.D.
Wittingly or unwittingly, they have "sold out," and the powers that made them and break men are historically untrustworthy. Any reasonably intelligent person would conclude this after learning of the William Morris Endeavor (WME) Agency's history as the "deep state's" leading entertainment talent provider–a social engineering firm, genocide administrator, and turf protector.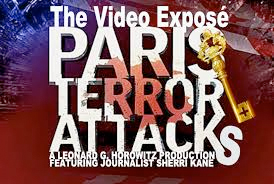 If you don't believe me watch this video censored from Google/YouTube titled The Paris Attacks: From Chaos to Global Governance Courtesy of the Terror Syndicate produced by yours truly. It features little known facts about the "entertainment" industry and its influence in geopolitics, economics, and terror commerce.
That company, WME, is partnered with a 49% stake holder in Jay-Z's main advertising agency, Droga5.  Those two partners, WME and Droga5, are in bed with Bill Gates's Microsoft NBC/Universal Music Group and their terrorizing, hypnotizing, social-engineering propaganda. Gates's genocidal operations administer global depopulation. This is no secret. These facts are evidenced HERE and HERE. These facts raise reasonable concerns about Gates's mass vaccination campaigns. The Bill & Melina Gates Foundation heavily distribute vaccines to the poorer nations, despite openly acknowledging this will "reduce populations," not extend life.
And if genocide is not treason and reason enough to awaken quickly from our illusions, inception levels, "dream states" and mass-mediated deceptions, WME, and its leader Ari Emanuel, is shockingly implicated in the production and "staging" of the Bataclan Theater Massacre that killed 89 concert-goers gathered in Paris to hear demonic lyrics sung by WME's talent–the "American Eagles of Death Metal Band" that oddly escaped the Friday-the-13th, 2015, massacre as detailed in the aforementioned Paris Attacks Video.
Where is the "fake news" outpuring in all of this? Wikipedia, for instance, considered by many informed observers as "the mouthpiece of the CIA," never mentioned a word about the WME/Bataclan Theater production involving the Muslim world's wealthiest nation–Qatar–known to be financing ISIS with the CIA during the Obama Administration. The site of this "terrorist attack"–The Bataclan Theater–was purchased just two months earlier, on "9/11" 2015, from a Jewish family reported to have been persecuted and threatened repeatedly. Qatar's mega-media anti-Zionist Lagardère conglomerate, that controls Al Jazeerra Media Network, purchased the soon-to-become crime scene from these so-called "Zionist Jews," while concert organizers in America booked the Eagles of Death Metal Band through WME. And that company is controlled by radical Revisionist Zionist Ari Emanuel, brother of Rahm Emanuel, past White House Chief of Staff for the Obama Administration that financed, armed and trained ISIS leaders. (Click to evidence these factual statements.) Relatedly, Rahm Emanuel has been characterized as the "murder mayor of Chicago" in the Washington Times.
Consequently, given these facts and history, it is hard for me to believe that Jay-Z and No I.D. are unaware of these facts spoiling their industry and challenging their best intentions.
And fueling further reasonable suspicions that they are aware of these facts, and therefore act willfully blind to their bed-fellows' complicity in mass murder, while outputting protective propaganda to preserve the NBC/Universal/Deep State virtual monopoly over the music/entertainment/propaganda industry, are Jay-Z's own false statements published by Billboard.  Therein Jay-Z claimed that he was willing to partner with other streaming services to carry out his vision. "We talked to every single service and we explored all the options," stated Jay-Z, "But at the end of the day, we figured if we're going to shape this thing the way we see it, then we need to have independence. And that became a better proposition for us . . ."
Neglecting the oxymoron in that statement–securing "independence" by joining the Capital, NBC Universal, and the WME/Droga5 alliance–the statement itself is obviously nonsense and false.
In fact, Jay-Z never talked to me, nor my partner, Sherri Kane–the co-developer of 528Records.com and 528Radio.com streaming service. Perhaps we were not successful enough for him, or too small or controversial a company to deal with. But we developed a more viable model than his–a publicly supported streaming service launched in 2011, that exclusively streams A=444Hz/C=528Hz music!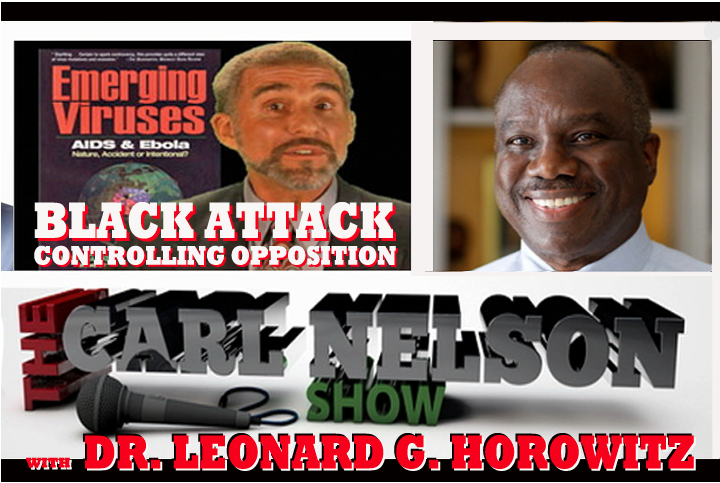 As good friends and honorable colleagues of many of America's leading voices for freedom opposing racial hate, religious divisions, and devastating genocides most damaging Black communities in America and Africa today, we would certainly have helped Jay-Z awaken to 444 insights much sooner, and succeed commercially much faster as an "independent" entrepreneur, had he contacted us.
In the same Billboard interview, Jay-Z noted his company's services were mainly for people "lower down on the food chain." "For someone like me," he said, "I can go on tour, but what about the people working on the record, the content creators and not just the artists? If they're not being compensated properly, then I think we'll lose some writers and producers and people like that who depend on fair trade."
Ironically, Jay-Z's companies are being criticized for restraining fair trade, precluding certain distributors while favoring others, while fans are kept waiting for their access to 4:44.
In addition, Variety reported on Jay-Z's firm being sued for allegedly withholding compensation claimed due to recording artist Kayne West.
Indeed, it is wise to "follow the money." "[Jay-Z's] willingness to spar with an artist [Kayne West] purportedly responsible for attracting 1.5 million new subscribers is perplexing," reflected James Sammataro, national head of Miami-based entertainment practice Stroock & Stroock & Lavan, which is not involved with either party, reported Variety. "Given all of the negativity surrounding Tidal, from accusations of inflated subscriber numbers, a turnstile of CEOs, and recent dismay with '4:44's' release strategy — even Snoop Dogg elected publicly for a pirated copy of '4:44′ rather than subscribe. . . ,"
Maybe Snoop Dogg considered something more than Tidal's damaging "release strategy" that moved him to avoid signing up for their "service" through Sprint largely serving the "Justice" Department.(3)
Finally, since Jay-Z's 4:44 implies he is turning a new leaf with full disclosures and love in his heart, maybe he will reveal everything he knows, or still needs to learn, about his partners and industry. (4) He might give me a call, and best serve humanity that way as a more candid, spiritually-inspired, successful social activist, and music industry entrepreneur.
– End –
Footnotes:
(1) Wikipedia (mouthpiece for the CIA) described Capitol Music Group (abbreviated as CMG) as "an American front line umbrella label owned by the Universal Music Group (UMG). It oversees handling of record labels assigned to UMG's Capitol Records division and were inherited from its acquisition of EMI's catalog (save for Parlophone, which was sold to Warner Music Group (WMG) in 2013). It is one of five umbrella labels owned by UMG, with the other four being Interscope Geffen A&M, Island Records, Def Jam Recordings and Republic Records. Labels distributed under the CMG brand include Capitol Records, Virgin Records, Motown Records, Blue Note Records, Astralwerks, Harvest Records, Capitol Christian Music Group, Priority Records, Atom Factory Entertainment and Deep Well Records.[1]
(2) Wikipedia (again, "public intelligence service"  for the CIA) described Tidal (stylized as TIDAL) as "a subscription-based music streaming service that combines lossless audio and high-definition music videos with exclusive content and special features on music. The service is maintained by the Norwegian company Aspiro AB. Included in Tidal's offerings are concert livestreams, ticket giveaways and other experiential events like listening parties and meet-and-greets with artists. . . . It has distribution agreements with all of the three major labels, in addition to many indies.[4] In the first quarter of 2015, the parent company Aspiro was acquired by Project Panther Bidco Ltd., which was dissolved on August 2, 2016[5] which was owned by Shawn "Jay-Z" Carter.[6]. . . Tidal currently operates in 52 countries.[11] Sprint purchased 33% of Tidal on January 23, 2017 for a reported $200 million.[12]
Aspiro was purchased by Project Panther Bidco Ltd. (owned by Jay-Z) for SEK 466 million (USD $56.2 million) in January 2015.[14] Before acquiring Aspiro, Jay-Z stated in an interview with Billboard that he was willing to partner with other streaming services to carry out his vision.
(3) Wikipedia editors also inform us that Sprint Nextel is "required by law in the United States," to respond "to court orders and warrants" pursuant to wireless subscribers' GPS locations. This information was provided authorities more than 8 million times in one year between September 2008 and October 2009.[90] "The disclosures occurred by way of a special, secure portal which Sprint developed specifically for government officials, which enabled users to automatically obtain Sprint customers' GPS locations after the request [was] reviewed and activated by Sprint's surveillance department."[citation needed]
Accordingly, regardless of how good or bad Jay-Z's intentions are, his partners are compelled by new laws that restrict freedoms and permit violations of privacy. There are many innocent victims of abusive practices by so-called "law enforcers" who can now seek and find anyone's identity and precise real time location using wireless communications. This is a real risk for those who join Tidal/Sprint's music streaming service.
These are difficult decisions to make, including for law enforcers responsible for public safety. They must find "probable cause" to issue a warrant submitted to courts of "justice," while systemic corruption in the "justice system" damages everyone.
(4) The Western World music industry's A=440Hz "standard tuning" was imposed by militarists allied with the Rockefeller Foundation during the 1930s. They engaged in "acoustic weaponry" research and development, and influenced the British Standards Institute's rejection of the more commonly and traditionally used A=444Hz "concert pitch," and adoption of the generally more distressing A=44OHz frequency.  A=440Hz "standard tuning" (also now called "concert pitch") imposes the "Devil's Tone" widely known throughout musicology to be F# in the D-major chord. This frequency of sound energy is MOST DISTRESSING. It is purposely used artistically and militarily to frighten and distress "target" audiences.
Curiously, the F# Devil's Tone is set at 741Hz frequency in A=440Hz standard tuning. Research is currently underway by this author and his colleagues to determine the relationships among the six (6) ancient Solfeggio frequencies that include: 396, 417, 528, 639, 741 and 852 Hertz pure tones, along with their biological and bioenergetic benefits vs. risks to society. These six unique frequencies comprise 2/3 of the "Perfect Circle of SoundTM" discovered and trademarked by this author subsequent to the revelations published in Healing Codes for the Biological Apocalypse in 1998 wherein the Solfeggio was revealed following centuries of imposed secrecy.
These facts raise important questions in natural law impacting spiritual disciplines, philosophies, religions, physics, and the healing arts and sciences, including "Why was dissonance (741Hz) included by God or Nature in the general construction of the musicially-mathematically administered universe?"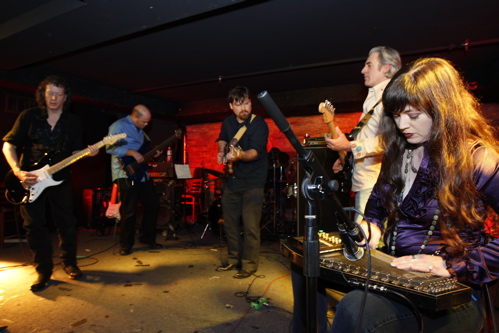 Among those working to answer this question is the world's most scholarly guitar expert in Solfeggio frequencies and "harmonic tuning"–Jon Catler. This Berkelee College of Music scholar,  composer, lead guitarist, music theorist, and social activist in the 13 O'clock Blues Band exclusively composes and performs in 396 and 528 harmonic frequencies. The band experientially introduces audiences to the Solfeggio, and its applications in healing.
Jon and his partner, Meredith ("Babe") Borden, produced a track titled, "Devil's Dance," featured on their Dazed and Confused album. This live performance album is named as political commentary to the general state of hypnotic confusion impacting people globally, reflecting the mass media (including the music industry imposing the "Devil's Tone") generating chaos. The band performs to administer a musical remedy, healing the damage done to people's lives by "the Devil" and his "dance," bringing public attention to the distressing dissonance F# impacts at 741Hz (also called the "Tritone," "augmented 4th," and "diminished 5th").
In response to this article, and Jay-Z's "4:44" album, Jon Catler wrote this author:
Hi Len –
If both Fmaj7 and Am are tuned to pure Harmonic tuning, the A and C notes that are in both chords would be tuned to A 440 and C 528.
In Harmonic Series terms, the F would be the fundamental, which is 1. The octave above that is 2, (the second Harmonic), and the octave above that is 4, (the 4th Harmonic).
The Just major triad is Harmonics 4, 5, and 6, written as 4:5:6.
5 is the fifth Harmonic, A, and 6 is the sixth Harmonic, C. This pure minor third interval from A to C is written 6/5.
6 divided by 5 = 1.2
528 divided by 440 = 1.2
So C 528 is a pure minor third above A 440.
I listened to 4:44 on my phone, it's harder to hear the chords so I should check on a different system, but the C note in the melody sounds flatter than 528.
J
Accordingly, research continues.