BioEnergy Wand & Rehab Kit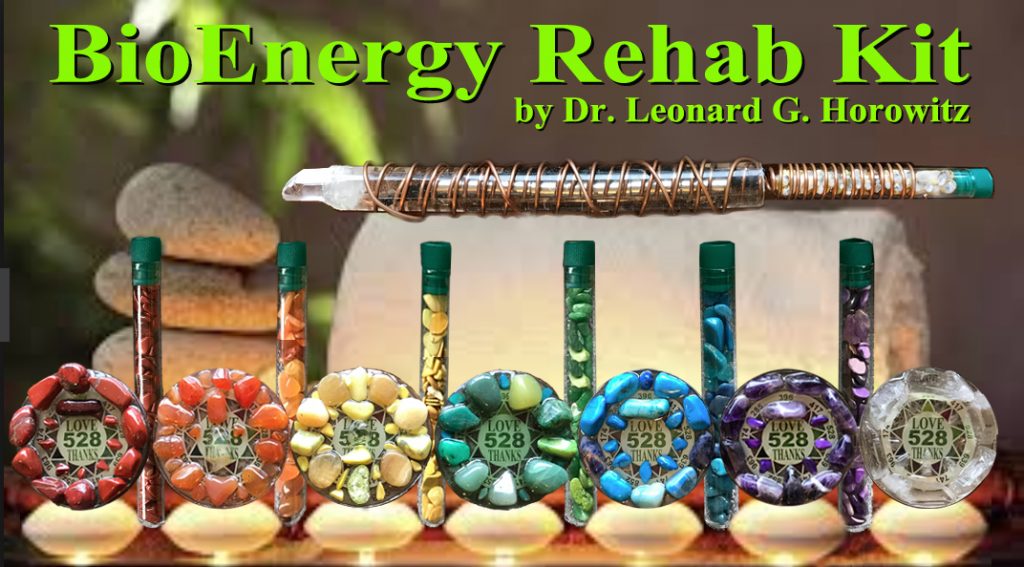 The BioEnergy Wand™ and "Rehab Kit" is great for lay and professional caregivers. Developed by world leading frequency therapy expert, Dr. Leonard G. Horowitz, this package includes: (1) a powerful electromagnetized 'BioEnergy Wand™;' (2) a set of nine (9) bio-photodynamic frequency therapy tubes; and (3) a set of seven (7) Chakra Disks™ used for "Frequency Rehab™," chakra balancing, and restoring health and renewing healing energy throughout the body. 
This pioneering technology is based on published science in the fields of bio-energy frequency engineering as declassified by the CIA along with research scholars advancing the fields of  "photodynamics" for cancer remediation.  The extraordinary "BioEnergy Wand™" is perfect for clinical, commercial, or home caregiving. As you can see from the photo, the BioEnergy Wand™ has a flexible 'handle' and coil design made from malleable/adjustable copper that is sized to permit a selection of borosilicate glass tubes to be snuggly inserted into the handle. The energy-conductive tubes can be filled by you with various frequency resonators or remedies. You can use colored gemstones as shown in the photo, or homeopathic remedies, herbal tinctures, essential oils, or frequency resonating structured water. For example, Dr. Horowitz recommends using CBD528 in the BioEnergy Wand™ for psycho-social and emotional health, or as a remedy to help defeat drug addictions. (The kit comes with five (5) empty tubes with green caps, supplementing the seven (7) tubes containing chakra-colored gemstones.) The size of the empty test tube also permits insertion of a standard flexible audio ear-plug that you connect to a sound generator, such as your iPhone connected online to iRife.net where you can select and play your favorite healing frequency. Alternatively, you can use a Solfeggio Eclectica musical track from Dr. Horowitz's Solfeggio Eclectica music album (sold separately). 
How to Use the BioEnergy Wand™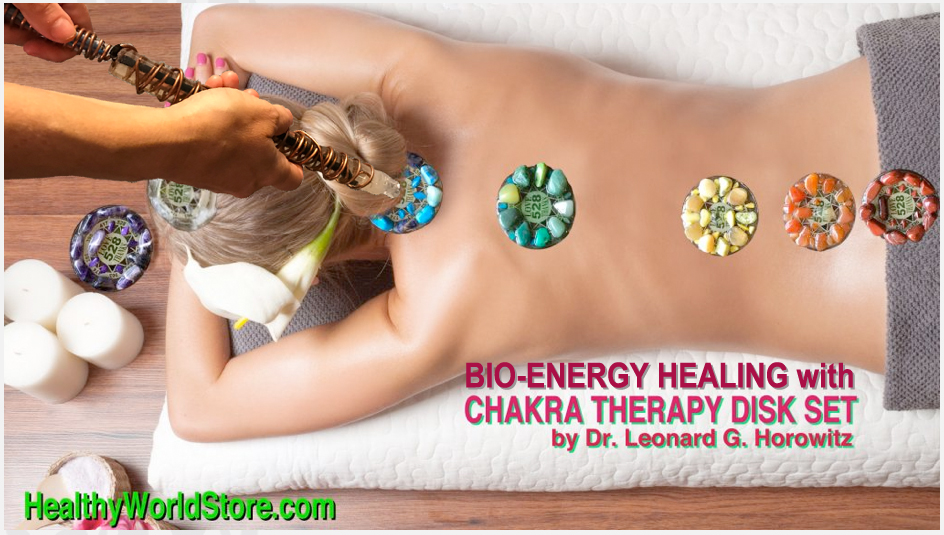 Hold the flexible handle with one hand, and the BioEnergy Wand™ cylinder with your other hand. Simply aim it and wave it at the chakra or acupuncture meridian you intend to balance. This action creates an energy flow sourcing from your polarized body sent through the copper coil that is amplified by strong magnets at the core of the cylinder. (Make sure each hand only touches one of the two copper 'electrodes." Otherwise, the energy flow will still work, but it will be significantly reduced.) You can see the BioEnergy Wand™ construction in the photo contains several inches of powerful bar magnets in the core composed of 528Hz "MIracle Frequency" crystallized natural plant resin. As shown, you can imagine pointing the wand's crystal end towards the chakra (or acupuncture point) you seek to activate, or transmit the frequency of energy you are sourcing from: (1) your heart-felt-loving-intention to be helpful (resonating likewise in 528Hz to heal whatever needs to be restored); (2) the tube contents energized by your hand's bioenergy field; and sent up and out through the north pole quartz crystal point of the BioEnergy Wand™;  and (3) the resonating 'remedy' substance or sound vibrating in the tube chamber that you select to impart that energy/remedy/frequency into the recipient.  
(Dr. Horowitz teaches an online course on this pioneering bio-energy frequency technology titled "Frequency Rehab." He recommends learning about chakras, their energetic association with the 'body electric' and acupuncture meridians; and using various techniques to discern the spin and energy needs of each chakra for balancing and restoring health to whole people.
BioEnergy Rehab Kit and Component Pricing
These kits are custom made by hand, and must be ordered in advance allowing 6-to-8 weeks for delivery. The BioEnergy Rehab Kit is available for Only $2298, and comes with a free double-CD Solfeggio Eclectica music album by Dr. Horowitz valued at $49.83 (sold elsewhere in this store). 
The components can be purchased separately as follows:
(1) The BioEnergy Wand™ with set of 7 chakra-colored gemstone tubes, 5 blank tubes with lids, and an 8-ounce bottle of OxySilver. (Dr. Horowitz recommends OxySilver because it is a 528nm/Hz frequency resonating 'double-superconductor' of sound and light energy. This is perfect for superconducting your energetic intention and remedies' vibration into the recipient.)  The BioEnergy Wand™ is priced at ONLY $1248.
(2) Chakra Disk™ Set containing 7 'standard' or 'delux' high-quality hand-crafted 'therapeutic art' used to balance each of the 7 chakras when left in place, with the stones touching the skin, for 20-minutes or more. These must also be pre-ordered with personalized instruction regarding the selection of either standard or delux hand-picked quality gemstones, and pink or green color-preference for the Heart Chakra Disk. The 'standard' Chakra Disk Set of 7 disks is Only $1050. The 'delux' Chakra Disk Set of 7 disks is Only $2100.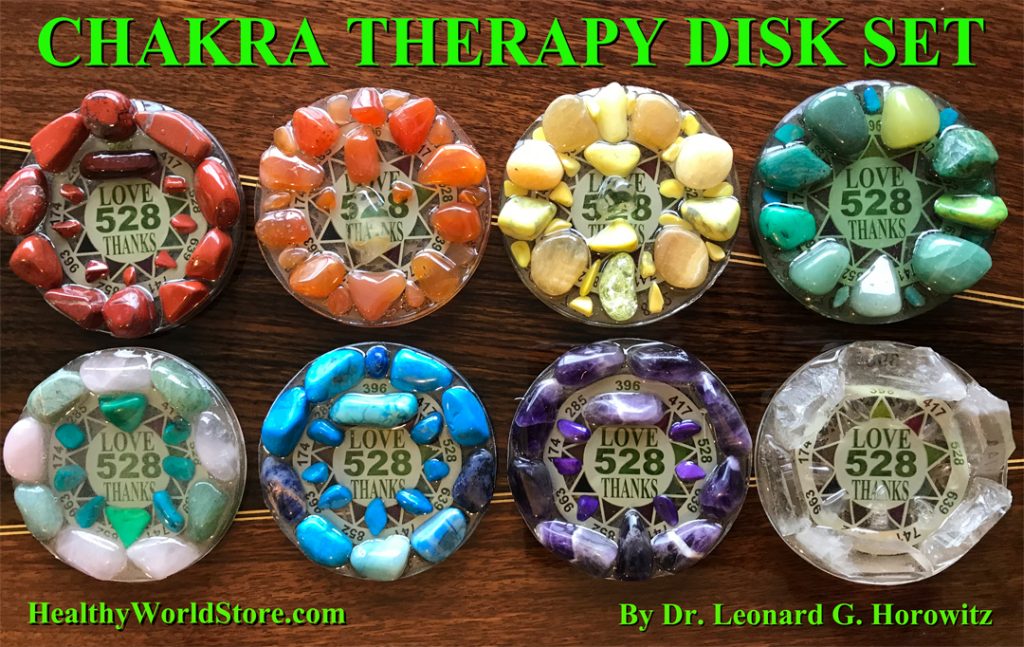 Order both the BioEnergy Wand™ and the standard Chakra Disk™ Set for Only $2298. (There is no extra charge for shipping and handling.)
You can receive a 10% discount by registering for Dr. Horowitz's 12 credit-hour "Frequency Rehab" Course for Only $3600. A free introduction to this course is online HERE. By completing this program, sponsored and accredited by Medical Veritas International, Inc. in lieu of Dr. Horowitz having pioneered this field, you will receive a Certificate of Achievement as a trained Frequency Rehab Provider. You will also learn how to invent novel bioenergy products and equipment, and/or manufacture these and other healing technologies to be used clinically and/or commercially. Your certification grants you a valuable association with Dr. Horowitz, along with a virtual "Frequency Rehab Franchise."
See also the HealthyWorldStore.com listing for Bio-Energy Technology Wands that complement the value of Chakra Disks.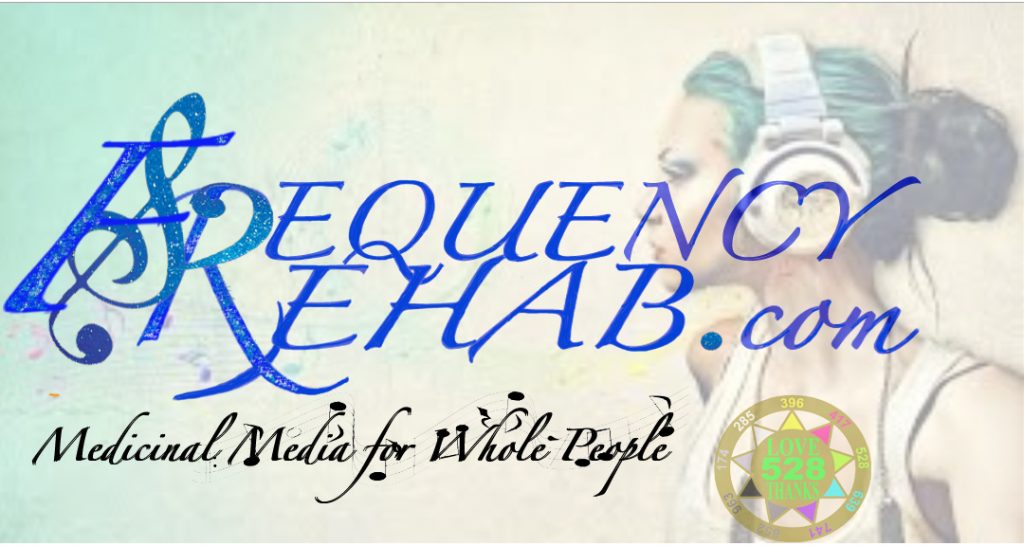 For more information, please contact: Editor@MedicalVeritas.org.