MATH PROVES EXISTENCE OF GOD PARTICLE, CONSCIOUSNESS, SPIRITUALITY AND SPECIAL FREQUENCIES OF 432 AND 528

MATHEMATICANS PROVE THE EXISTENCE OF A " GOD PARTICLE ", CONSCIOUSNESS, AND SPIRITUALITY ASSOCIATED WITH SPECIAL HARMONIC FREQUENCIES OF 432 AND 528
Mathemeticians Vernon M. Neppe and Edward R. Close have proven the existence of a previously undetermined mass-less and energy-less substance they call "gimmel" that directs organization of physical reality at the atomic and elemental levels, and their extraordinary research has been published in IQ Nexus Journal (7:4; 7-119, 2015).
"Gimmel," considered the " God particle," features the harmonic numbers 432 and 528 within the administration of consciousness, spirituality, and metaphysics, according to Neppe and Close's findings. (CLICK: IQ Nexus Article by Neppe and Close – Consciousness, Gimmel, the God Particle and the Mathematics of Metaphysics.)  Their research into the "Nature of Reality" is claimed to have produced "paradigm shifting" determinations expanding the fields of physics and metaphysics using a 9-dimensional analyses "replacing the dimensionless points of the calculus of conventional mathematical physics."
In this new analytical model of reality, Neppe and Close introduce an new unit of measurement basic to elementary particles and material existence called "TRUE" (an acronym for "Triadic Rotational Units of Equivalence"). Using TRUE analysis, these researchers produced a 9-dimensional model of universal construction in which a new "third form of the substance of reality" became necessary for materialization of matter and energy — the "God particle," or "Gimmel."
Traditionally, the word "gimmel" symbolized a rich man running after a poor man to give him charity. The word gimel derives from the word gemul, which in Hebrew means both the giving of reward as well as the giving of punishment. In the Torah, both reward and punishment have the same ultimate aim–the rectification of the soul to merit to receive God's light to the fullest extent–the Hebrew equivalent to karma and its purpose in administering cosmic justice. (Read more HERE.)
Consistent with earlier determinations in physics, Neppe and Close validate a "9-dimensional spin model" of the universe in which gimmel is intertwined in "consciousness" as well as the stability of atoms, elements, molecules, and the cosmos, including your own DNA.
To test their hypotheses, Neppe and Close used the number 108 cubed based on measurements in particle physics. They confirmed 108 in several ways, including analysis of the inert noble gasses helium and neon that show the same stable physical properties as life supporting elements. In addition, they found that silicon, used in computers and biological systems too, "shows it's a multiple of 108 cubed with equal protons, neutron, and electrons." 4 x 108 equals 432 a frequency widely known to enhance the quality of music.
In earlier publications, mathematician Victor Showell evidenced the harmonic relationship between 432 and 528–the "Miracle" note of the original Solfeggio musical scale, widely known to produce "medicinal music" as pioneered by Dr. Leonard G. Horowitz through this website and his many publications. Mathematician Showell used multiple analyses of sacred geometic forms, including the Giza pyramids, to prove the harmonic concordance of 432 and 528. (Click here to read more.)
THE NEW PARADIGM MERGING SCIENCE AND SPIRITUALITY
"Atomic materialism," researchers Neppe and Close concluded, "is refuted because protons plus neutrons plus electrons alone, or quarks plus electrons alone, cannot form the stable integral combinations that we call atoms and molecules. There has to be a third substance." That "third substance" is "gimmel" according to their analyses. "Without extra TRUE units of 'gimmel', volumetrically atoms cannot exist as stable combinations of integer multiples of TRUE units," they wrote.
After examining water, and calculating Hydrogen-hydroxide (H-OH) (=water) compared with Hydrogen sulfide, they determined the latter "calculates out at a lower gimmel/TRUE ratio and is not a cube root, indicating that it is asymmetric.
The investigators also postulated that gimmel is strongly linked with the meaning that humans give to such analyses. "Consciousness is a strong gimmel candidate because there appears none other. . . . The whole is more than the sum of the parts because gimmel contributes to stability, yet cannot be directly observed or measured. . . . It is possible that gimmel reflects what particle physicists have hypothesized as "gluons", the "glue" holding atoms together. . . . Consciousness appears to be the common aspect, and we regard "gimmel" as predominantly reflecting meaningful consciousness even at the subatomic level. . . . A meaningful consciousness that is tethered with the mass/energy in the 9-dimensional domain."
In personal communication with Dr. Horowitz, Dr. Neppe analyzed Dr. Horowitz's "Perfect Circle of SoundTM" model of cosmic creation that includes the original six ancient Solfeggio frequencies, and three more determined by Horowitz's extrapolations. That model, what Dr. Horowitz calls the "Musical Mathematical Matrix of Creation," is comprised of "nine core creative frequencies of sound." Horowitz's work is consistent with the works of mathematician Marko Rodin, and physicists Nassim Harramein and Hartmut Mueller. It must also be consistent with Neppe and Close's 9-dimensional model, but in ways not yet known.
Dr. Horowitz speculates the "9-dimensional model" corresponds in ways unknown with the 9 core creative frequencies: 396, 417, 528, 639, 741, 852, 963, 174, and 285. However, only 528 was determined by Dr. Neppe to resonate consistently within the TRUE and gimmel determinations from which "The God Particle" is surmised.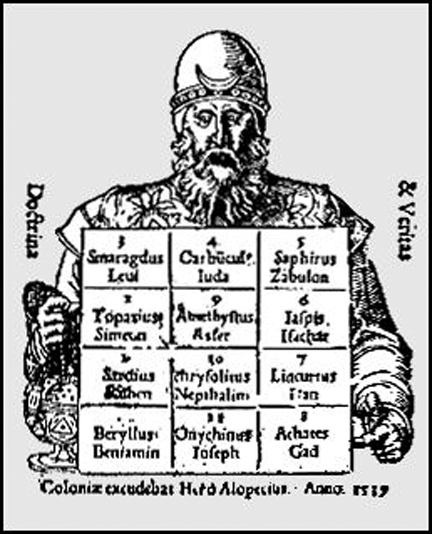 Dr. Neppe also determined that 528 was uniquely associated with the 4th element, Beryllium (Be).
Curiously, Beryllium, is highly reactive with Oxygen, and forms from cosmic radiation to exhibit an octahedral (8-sided sacred geometic) structure featuring atoms with half of the electrons of Oxygen.
"Be" is an alkaline earth metal exhibiting several extraordinary properties–like water it is a superconductor of sound. It is also a heat sink capable of absorbing electron energy most effectively.
Notably, gemstones containing beryllium include the greenish gems beryl (aquamarine, emerald) and chrysoberyl.
The breastplate described in Exodus 28, 15-30, representing the twelve tribes of Israel, said to be endowed with special spiritual qualities radiating from each gemstone, includes two containing beryl in the second and fourth row–the emerald and pure beryl, respectively.
PREDICTING THE FUTURE OF SCIENCE AND SPIRITUALITY
Investigators Neppe and Close reflect on the fact that "many of the key scientists of the past were deeply spiritual (for example, Georg Cantor, Albert Einstein, Isaac Newton, Wolfgang Pauli and Max Planck), but they did not dare to introduce consciousness into the equations of science."
Alternatively, to remedy this deficiency in science, Neppe and Close have introduced a model that "attempts to unify science and spirituality, and emphasizes the tethering of consciousness."
These investigators, however, do not expect their brilliant research and determinations to be widely accepted for some time, due to the "science-spirituality dichotomy."
"[T]he materialistic belief system widely taught in our educational institutions today brings otherwise rational people to scoff at, and ridicule, any mention of any form of intelligence superior to their own," Neppe and Close wrote.
"This egotistical position of mainstream scientists is justified in their minds by the successes of materialistic science. But those successes lie almost entirely in the realm of explaining superficial physical mechanisms. Deeper and ultimately much more important questions about the meaning and purpose of manifest physical reality, life and conscious awareness, are beyond their reach.
"Those questions, of paramount importance to humanity, are within reach of meaningful analysis when consciousness is included in the equations of science," Neppe and Close concluded. "In this world of human experience, we will never truly understand the Nature of Reality until our searchers for scientific and spiritual knowledge are merged into one serious, combined effort.
"Once this happens on a global scale, . . . humanity will experience an explosion of new knowledge and understanding far beyond anything experienced so far . . . [W]e show how consciousness is describable in the equations of quantum physics and relativity, . . . This is only the tip of the iceberg!"
-End-
CLICK to read: IQ Nexus Article by Neppe and Close – Consciousness, Gimmel, the God Particle and the Mathematics of Metaphysics.