Dylan Nobel Feared Snub Wins 528 Award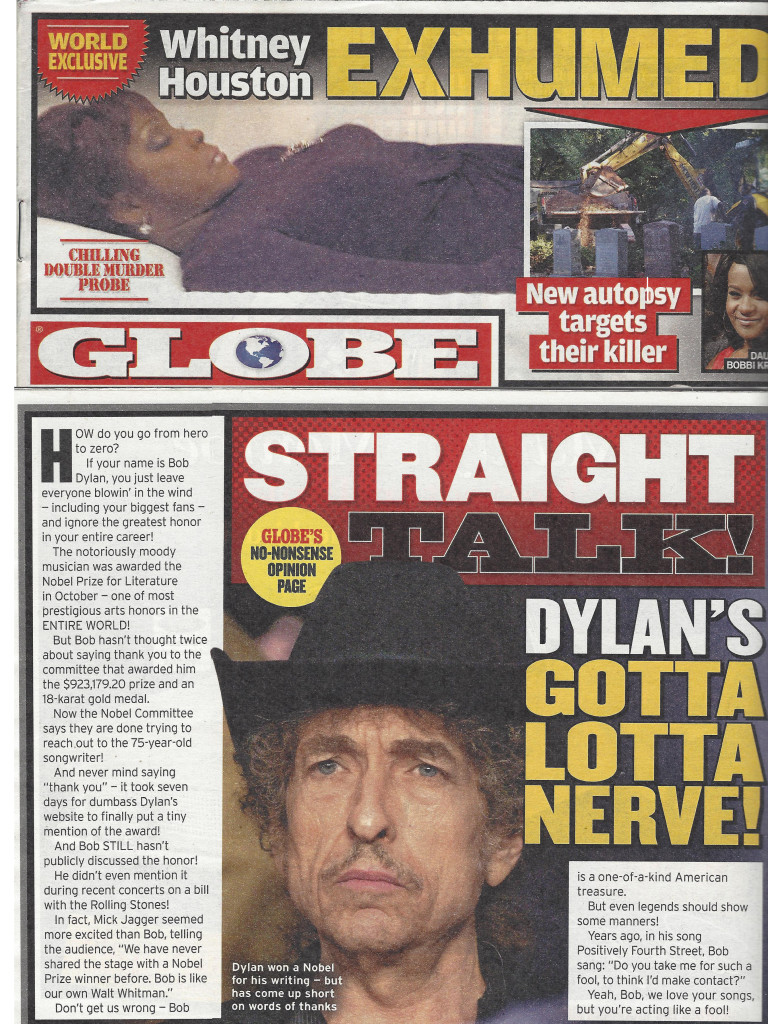 BOB DYLAN'S FEARED SNUB VETS NOBEL PRIZE DYNAMITE:
"POETIC ACTIVIST AWARD" GIVEN BY "528 MUSIC" PIONEER, DR. LEONARD HOROWITZ
(Honolulu, HI, 11-28-16) Poetic activist and renowned recording artist Bob Dylan's feared snub of the Nobel Prize for Literature has caused a supporter, fellow activist, music industry pioneer, and leading drug-industry whistleblower, Dr. Leonard G. Horowitz, to honor the folk-rock hero for his integrity. More than a "POETIC ACTIVIST AWARD," Horowitz donated two gifts for Dylan and his fans: (1) this article vetting the "blood money" tainting the $923,179.20 cash prize Dylan politely neglected; and (2) a video compilation and 528Hz re-mastering of the "Hurricane"–one of Dylan's four top all-time most powerful political protest songs.
Dylan's Aversion to Hypocrisy
The Nobel Prize for Literature is among the greatest acknowledgments Western officials bestow. So when award-winning author and filmmaker Horowitz saw Bob Dylan being smeared by the tabloids for initially evading the prize, the investigative journalist, famed whistleblower, and 528 "medicinal music" industry pioneer, began to research and reveal what lies below Dylan's polite silence.
"Despite what the mainstream corporate-controlled media is saying to condemn Dylan for avoiding this matter, any reasonably intelligent folk-rock fan would know that accepting that award would be the most hypocritical and compromising thing Dylan could do. Because that prize money comes from the patent holder on dynamite and war profiteering, Alfred Bernard Nobel," Dr. Horowitz explained.
It was the will of the purportedly repentant Nobel to honor authors who produced "the most outstanding work in an ideal direction." His use of the word "work" referred to a compilation of lifetime achievements. So it is most fitting that activist recording star Dylan, real name Robert Allen Zimmerman, snub the award, because accepting that 'blood money' is the opposite to what Dylan's life's work represents. That money, coming from the creator of chemicals, iron, dynamite and war machines, is tainted by the deaths of millions of people. That stands in sharp contrast to Dylan's condemnation of the "Masters of War."
In the "Number 1" ranked political protest song of all time, Dylan's opposition to the Masters of War records:
________________________
Come you masters of war

You that build the big guns

You that build the death planes

You that build all the bombs

You that hide behind walls

You that hide behind desks
I just want you to know
I can see through your masks
You that never done nothin'

But build to destroy

You play with my world

Like it's your little toy
You put a gun in my hand

And you hide from my eyes

And you turn and run farther

When the fast bullets fly
Like Judas of old

You lie and deceive

A world war can be won

You want me to believe

But I see through your eyes

And I see through your brain

Like I see through the water

That runs down my drain
You fasten all the triggers

For the others to fire

Then you sit back and watch

When the death count gets higher

You hide in your mansion

As young people's blood

Flows out of their bodies

And is buried in the mud
You've thrown the worst fear

That can ever be hurled

Fear to bring children
Into the world
For threatening my baby

Unborn and unnamed

You are not worth the blood

That runs in your veins
How much do I know

To talk out of turn

You might say that I'm young

You might say I'm unlearned

But there's one thing I know

Though I'm younger than you

Even Jesus would never

Forgive what you do
Let me ask you one question
Is your money that good

Will it buy you forgiveness

Do you think that it could

I think you will find

When your death takes its toll

All the money you made

Will never buy back your soul
And I hope that you die

And your death will come soon

I will follow your casket
In the pale afternoon

And I'll watch while you're lowered

Down to your deathbed

And I'll stand on your grave

Til I'm sure that you're dead
 ________________________
"There are no accidents on the wheel of karma," Horowitz said defending Dylan. "His critics are, by-and-large, the same Masters of Literature–the not really "Free Press"–fomenting wars and racism for profit. Now they are pushing globalism using terrorism, including bioterrorism, for more 'blood money.'"
The doctor explained. "We have wars on cancer and AIDS selling costly drugs. We have racism intertwined with bioterrorism when allegedly feared diseases, like AIDS, Ebola, and West Nile Virus are falsely blamed on Black people like 'African monkey hunters.' We have air travel frights threatening to spread deadly viruses internationally. One World Health Organization and one World Bank administers and finances the profitable responses called 'bio-preparedness'–stockpiling costly drugs and vaccines as armaments against military-medical contrived 'emergencies'.
"And then, in contrast, we have the genius of Dylan protesting throughout a lifetime of achievements the "Masters of War," racism, and social injustice. The same 'blood money' from the 'military-medical-petrochemical-pharmaceutical-banking cartel' finances the 'mad-stream media' propaganda now making a stink about Dylan compromising or not his personal and professional integrity for the Nobel 'honor.'"
Fellow Peace Activists Honor Dylan's Achievements
Dr. Horowitz is a prolific author and filmmaker whose recent production, UN-VAXXED: A Docu-commentary for Robert De Niro, won five film festival awards internationally, including "Best Film – 2016" in London and Geneva competitions. In 2009, the Harvard-trained public health expert, behavioral scientist, and media intelligence analyst teamed-up with investigative journalist, Sherri Kane, to launch the "528 Radio Network." "The HOROKANE" discovered the music industry needed a "tune-up." Their public service features a frequency-transposer that feeds MP3s to a virtual library and playlists on a dozen online stations broadcasting 528Hz re-mastered original recordings through the website 528Records.com.
"Most recording artists have recorded in the 'lower frequency' of war and dissonace–A=440Hz," Kane explained. Dylan didn't know that "standard tuning" was imposed in 1938 by war-makers following a decade of acoustic weaponry research and developments. The A=440Hz selected "concert pitch" was especially unnerving and distressing.  Compared to the A=444Hz frequency tuning preferred by Europe's finest classical musicians for more than a century, the New World's "standard tuning" was an abomination.
A few "conscious" musicians withstood the assault on the music industry. Some continued to produced music in A=444Hz/C=528Hz. A few became examples of profound success. These classics include Imagine by John Lennon, Stairway to Heaven by Led Zeppelin, and Israel "IZ" Kamakawiwo'ole's Somewhere Over the Rainbow enjoyed by record numbers of music fans.
To honor and defend Dylan, Dr. Horowitz compiled the genius's performance videos and Dylan's original sound track Hurricane recorded in A=440 to produce a "528 Remastered" short film now playing on RevolutionTelevision.net and Vimeo's Revolution Television channel. The freely viewed donation includes segments from the 1999 film The Hurricane. That is the story of Rubin "Hurricane" Carter–a boxer that Dylan toured to exonerate. The prize fighter was wrongly imprisoned for murder. Dylan's 1976 Rolling Thunder Review tour, and a related film starring Danzel Washington, brought massive awareness to the injustice. Number 9 on RollingStone's "10 Best Protest Songs of All Time" according to a public poll, is Dylan's "impassioned" eight-minute Hurricane saga that dramatically drew public attention to American racism and judicial corruption, exemplified by Rubin Carter's unjust trial and imprisonment.
"To see him obviously framed, couldn't help but make me feel ashamed to live in a land where justice is a game," Dylan sang.
"I refuse to accept the view that mankind is so tragically bound to the starless midnight of racism and war that the bright daybreak of peace and brotherhood can never become a reality," said Dr. Martin Luther King, Jr. in his Nobel Prize acceptance speech in 1964.
Dylan's life's work, including snubbing prize money derived from war and hatred, evidences profound good will and professional integrity.
The GLOBE example
A great example of what Dr. Horowitz sees as an organized attack on Dylan is found in the October 2016 issue of GLOBE read by America's least-educated "consumers" while "checking-out" in multi-national chain stores.
The GLOBE is owned by American Media in Boca Raton, Fl. That is owned by major private equity bankers that profit from war and dislike Dylan.
The controlling interest in American Media–publisher of the GLOBE and National Enquirer tabloids–is Roger Altman, founder and chairman of Evercore Partners–a leading independent investment banking advisory firm in New York City (NYSE: EVR).
Altman bought the controlling stake in American Media in 1999. Before then, Altman served as the Assistant Secretary of the United States Department of the Treasury, 1977-1981; Vice-Chairman, and head of mergers and acquisitions for the Blackstone Group in 1987; and the advisor to presidential candidates John Kerry in 2004 and Hilary Clinton in 2008. Blackstone's private equity business has been one of the largest investors in private equity leveraged buyouts globally.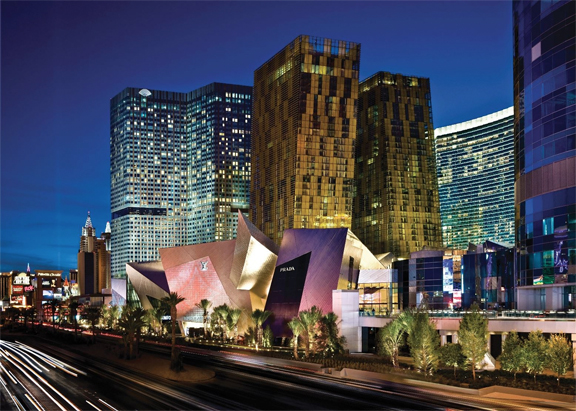 Blackstone is a corporate partner in the David Rockefeller created, Royal Family of England chartered "Partnership for New York City (PFNYC)," exposed by The HOROKANE in previous articles and videos. These journalist-activists found not only the PFNYC's dirty dealings in the biotechnology industry and the "PharmaMedia," but esteemed members of the group veered money originally dedicated to rebuilding the World Trade Towers following 911 to build the new "City Center" in Las Vegas.
According to "The HOROKANE," PFNYC members' payoffs from 911 were diverted through the Apollo Management investment group to the MGM Grand enterprise to build The Center Center, featuring two "Veer Towers" central to the massive new construction that opened with red-white-and-blue nightlights. The two towers appear from afar to be falling into rubble. This monument to the old World Trade Center and "rubble" boasts the strip's most exclusive stores. Residents here include GUCCI, Prada, Dolce & Gabbana, Tiffany & Co, Tom Ford, and Louis Vuitton. These stores, always lacking much consumer traffic, appear to be "fronts" for illegal drug trade, child sex trafficking, kiddy porn networks, and human slavery rings, in these authors' opinion.
Relatedly, The HOROKANE reported the PFNYC to the FBIin 2009 for complicity in a conspiracy to profit from the "false flag" H1N1 Swine Flu "Pandemic." Here's how this fits in.
In 1990, American Media purchased the leading American tabloids from Rupert Murdoch including STAR and The National Enquirer. As we reported, Murdoch Co-Chaired David Rockefeller's PFNYC during the specious H1N1 pandemic, and was heavily invested in leading H1N1 vaccine makers Merck & Co. and GlaxoSmithKlein(Beecham) H1N1 vaccines.
The modern American Media was formed in 1988 following the death of New York "political powerbroker," and God-son to crime boss Frank Costello, Generoso Pope, Jr.  The company was bought in a closed auction by Macfadden Publishing and Boston Ventures partnership for $412 million.[2]
Since then, it established a history of publishing defamatory articles and political propaganda. The company is most infamous for its deadly involvement in the anthrax mailings, a fact involving Trumps political aide, the ex-New York Mayor, Rudy Giuliani.
The Anthrax Mailings, the Media, and Rudy Giuliani
In 1998, the vaccine maker, OraVax (that became Acambis) dealt secretly with Jerome Hauer, former head of New York City's emergency management team under Rudy Giuliani, as well as the ex mayor, as well as President Clinton arranged to have the nation stockpile a billion dollars worth of West Nile Virus vaccine for a virus that would outbreak in the United States for the first time a year later.
Two years later, immediately following the 9/11 attacks, on September 18, 2001, five letters containing anthrax were claimed to have been mailed to ABC News, CBS News, NBC News, the New York Post, and one to the National Enquirer at AMI in Boca Raton, Florida. Two more anthrax mailings were sent from Trenton, N.J. three weeks later. One to Democratic Senator Dan Leahy, the Judiciary Committee Chairman, and the other to Tom Daschle, the Senate Majority leader. Dashle, like Leahy, had opposed legislation favoring Bush and his gang.
A year earlier, with Bill Clinton in the White House, and 9/11 being planned, Leahy crossed the Bush mob again. The brave Vermont Senator co-signed a letter sent to the Appropriations Committee requesting a delay in implementing Section 304 in H.R. 4392–the Intelligence Authorization Act for 2001. The legislation considered new laws making what upset Snowden a crime–gathering and sharing secret private intelligence.
Leahy and his supporters also attempted to protect Americans' First Amendment rights and the Whistleblower Protection Act. At the same time Leahy opposed unbridled drug industry profits, as well as the Iraqi War. That war made the Bush family and Dick Cheney's Halliburton Company a bloody fortune.
Earlier, during Operation Desert Storm in 1991, the Pentagon, led by then defense secretary Dick Cheney, paid Halliburton more than $8.5 million to study the use of private military forces. Later, massive amounts more went to Halliburton to clean war damage Kuwait. The job required 725 burning oil wells to be tapped.
Evidencing Cheney's hatred for Leahy, in 2004, the  Vice President under George W. Bush told Leahy, "Go fuck yourself" in retaliation for Leahy's opposition to Halliburton's activities in Iraq.
So it is not surprising that Leahy would be targeted with anthrax, and Halliburton Technologies would be partnered with Rudy Giuliani's Bio ONE "crime scene clean up company and Sabre Energy Services.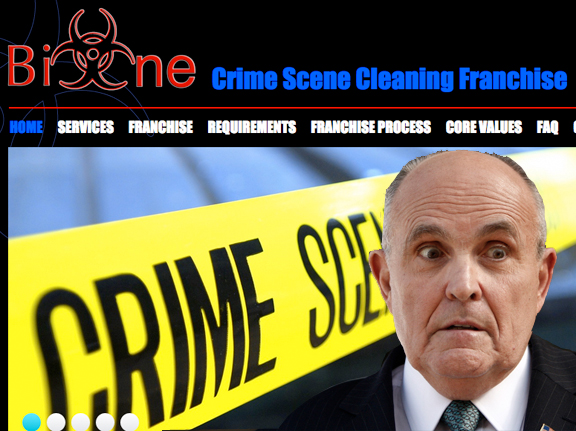 Below is a news clipping from the Lakeland Ledger that same year, heralding Rudy Giuliani new company, bio ONE, profiting with his partners from decontaminating anthrax from the Washington DC buildings exposed, and announcing his new office in the AMI building in Boca Raton.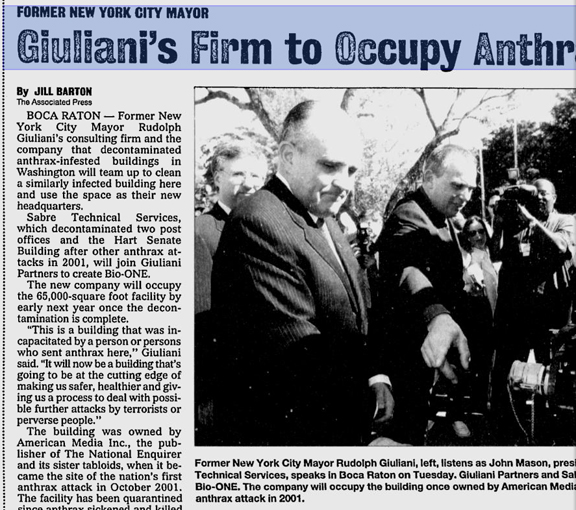 Meanwhile, the New York Times had reported on October 9, 2001, that the FBI investigation of anthrax mailings was stymied.
Dr. Horowitz dutifully responded by publishing this meticulously detailed "Anthrax Mailings Chart" laying out all the suspects. Following this submission to the FBI, they made him a "suspect" in the crimes–clear and convincing evidence or "regulatory capture" and Justice Department corruption.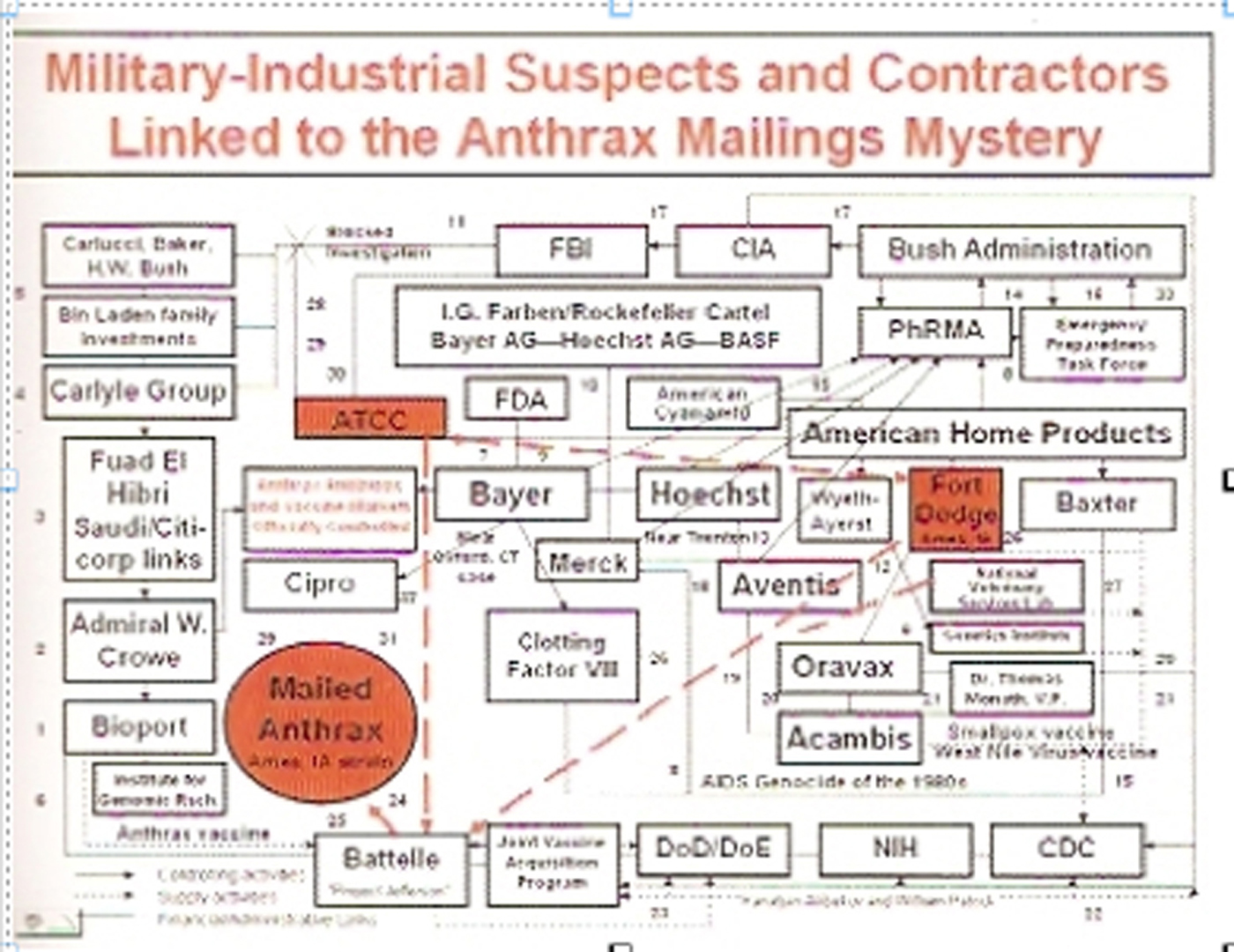 Then, stunningly, the FBI and CDC were blamed for destroying critical evidence! According to the report, the Ames, Iowa strain of anthrax, determined to be the one mailed from Trenton to Florida and Washington's capitol, had been suspiciously selected for destruction. Iowa State officials suddenly confessed that they were ordered by CDC and FBI officials to destroy all of the remaining Ames, Iowa anthrax strain on or about October 8-9. The strain archive was then "destroyed on Oct. 10 and 11."
That means, as national attention was first focusing on the AMI's initial anthrax cases in Florida on October 7, and as the anthrax letters to Senators Daschle and Leahy were being mailed from Trenton on October 9, orders to destroy that particular strain were issued by FBI and CDC officials. This strongly suggests a conspiracy at the highest levels of the federal government.
Below is another graphic prepared by Dr. Horowitz for a presentation before the Hawaii County Counsel in 2016 citing some of the key persons, corporations, and even Oxford University institution linked to AMI and profitable media propaganda frightening the public about ZIKA and dengue fever–commercial bioterrorism.
Magic is performed by the magician's two hands; in this case two political parties. The graphic below was found among the set of GCHQ population control training slides used by officials to teach agents to perform this magic performed on the world stage.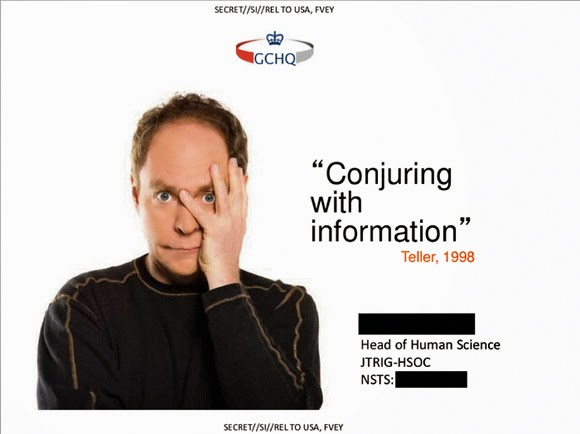 By this magical "performance" called "globalization"–or "One World Order"–World War III and global depopulation is threatened in the next scheduled "act."
Accordingly, Dylan's feared snub of the Nobel prize should not surprise or offend anyone, especially the intellectually-esteemed foreign Nobel committee. What the award committee essentially asked Dylan to do was compromise his body of work for which the award was granted.
Hypocrisy is never convincing. Assuming the military-pharma-media is conjuring Dylan-hatred, manufacturing cause to revoke Dylan's well-deserved public thanks, secure the Nobel Prize's hidden secrets, and divert from what is really happening in the world of the rich and famous, and their "blood money," Dylan's polite silence speaks volumes.
-End-