528 Deniers by Sherri Kane
The Music Mob's "Protection Racket" Best Explains Attacks on 528 and Revolution Leaders, by Sherri Kane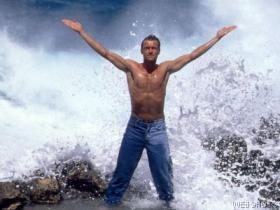 The 528 Revolution is "paradigm shattering," and there are people who don't want their profitable (albeit omnicidal) paradigm shattered.
Think of the mobsters in the music industry that control the flow of wealth and talent. Do you think they would not spend money to secure their trillion dollar investments in entertainment and social control?
Of course they would want to protect their "turf," and hire agents and agencies to do the dirty work.
Enter the CIA and the FBI's COINTELPRO—the "Counter Intelligence Program.".
"The best way to control the opposition is to lead it ourselves," wrote Communist leader Vladimir IIvich Lenin.
Likewise in America, protection is best secured by funding both sides of every debate and discrediting legitimate adversaries viewed as "commercial competitors" or decreed "political dissidents."
Many character assassins, like "Manchurian candidates," are available for pay, and sell their souls to the highest bidder. And several of them have attacked 528, Dr. Leonard Horowitz, Sherri Kane, their friends, family members, and 528 recording artists, including John Lennon who was a victim of similar harassment and defamation from J. Edgar Hoover's FBI that started COINTELPRO.
God forbid the world would prosper in peace! Let's not have people become intelligent. They might awaken to their slavery to multi-national corporates and their "lame-stream media" that spins nearly every feature story to protect organized crime. This mass persuasion is simply a form of "brain-washing"–a "PSYOP"–linked to the secret social control program code-named MKULTRA.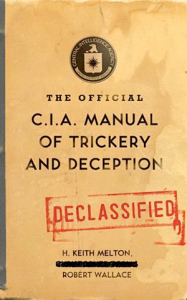 Cassic examples of this psychopathological activity are found among the men who sought to destroy Dr. Leonard Horowitz's reputation and the 528LOVERevolution for commercial gain. These four men serve the Illuminati (that controls BigPharma, the Energy Cartel, and a lot more, including the entertainment industries). These men are: Jamie Buturff, Tyler Thurmond, Alma C. Ott and Don Nicoloff.
Buturff and Thurmond
Buturff and Thurmond are self-appointed 528 deniers. They promote 432Hz by lying, and have even claimed 528 is not a frequency at all.
Buturff claims to be a spiritualist who worked for the Pentagon. (He may have been a janitor for all we know, because that is the level of intelligence he demonstrates.) Buturff befriended mathematician Marko Rodin to make a name for himself while allegedly attempting to commercialize Rodin's simple but brilliant discoveries. Many investigators who have attempted to confirm Buturff's publications, especially his frivolous and fraudulent attacks on 528, have found him to be solidly idiotic. (But all you need is a few loud mouthed idiots to sway society any way you want, haven't you noticed?)
Tyler Thurmond is one such troll. Mr. Thurmond, allegedly after doing his "home work," approached Dr. Horowitz in 2008 to help (supposedly) produce "LIVE H20: Concert for the Living Water." Horowitz conceived of the idea of producing an international musical/spiritual event to pay tribute to Water worldwide; and to awaken people to the slow but sure poisoning of drinking water, and commercialization of this natural pure resource. Thurmond promised to deliver a lot, and did nothing—zero, zip, nada.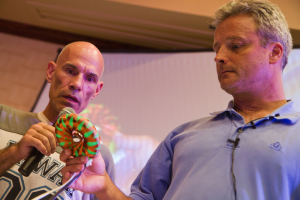 "He just wasted a lot of my time," Dr. Horowitz said of Thurmond's involvement in LIVEH2O.
Thurmond acted as though he was assigned to monitor the event, and undermine it wherever he could.
After the concert, Thurmond joined forces with Buturff to produce several videotape presentations they published on YouTube claiming that 432Hz was superior to 528Hz; even claimed 528 was not a frequency of sound or light. (Daaahhhh!)
" Dr. 'True' Ott" (aka. Alma C. Ott)
A fellow 528 denier is Alma C. Ott, alias "Dr. 'True' Ott"—a name he created to persuade people that everything he says is not a lie. (Even his two claimed doctorates are fake!)
Ott is a leading anti-Semitic KKK propagandist espousing "Christian Identity" theology on the Internet, and is described by Iron County Sherriff's Office police lieutenant Jody Edwards as a "'use caution' individual."
Edwards is Ott's brother-in-law, who described Ott as "quite anti-government," and warned Ott's Summons server, Richard Dickenson, as the court officer was attempting to serve Ott, that Ott is probably armed and potentially dangerous.
Dickenson's sworn affidavit records Edwards's warning and Ott's evasion of service. (Click to read Ott's process server's Affidavit of 4-22-13; and Evasion of Service Affidavit of M'Lissa Holt of 4-16-13)
Referring to Ott, "Jody said he does not know if he is narcissistic, bi-polar or what, because he does not believe he has ever had a psych-eval, but thinks ANYONE could Google his name and see that he has something wrong with him."
Ott began libeling Horowitz in 2007, and the doctor's ex-wife joined Ott and his gang of Internet "trolls" in expanding the libel in 2011. Lindenbach distributed to members of Ott's gang of cyber-stalkers stolen photos of Kane, her private journal writings, and a heavily edited videotape smearing Horowitz and Kane with added racist slurs defaming Horowitz as "knighted by the Pope" to serve as a "spawn of Satan" in a global "Zionist conspiracy."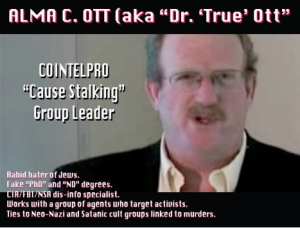 Many years ago, following Dr. Horowitz's and Dr. Joseph Puleo's revelations about 528 in 1998, before people learned about the "LOVE frequency," Ott wrote very positively about 528 at the end of a paper he mostly plagiarized. He stole the bulk of the writing from a brilliant female investigator (who threatened to sue Ott if he didn't stop infringing upon her intellectual property), and ended the article citing 528 as a powerful frequency acting in healing minerals.
Here is a sample of the "bad will" Ott outputs. The demonic dripping of blood upon "The Perfect Circle of Sound" is among the latest Ott demonstrations of his psychopathology. ("The Perfect Circle of Sound" was trademarked by Dr. Horowitz, and described as heralding "the nine core creative frequencies of the universe.)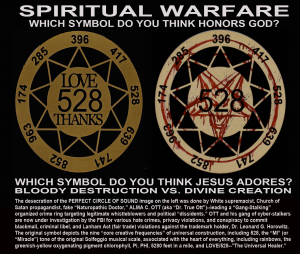 Finally, Don Nicoloff, a good friend of Mr. Ott's, is another leading 528 denier. Curiously, Mr. Nicoloff "partnered" with Dr. Horowitz in 2007 after the doctor published LOVE: The Real da Vinci CODE, heralding the miraculous power of LOVE/528 in the read da vinci code decrypted in the book.
Don Nicoloff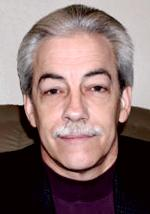 Nicoloff was interviewed by Horowitz on several occasions defending 528 against attacks by less knowledgeable investigators. Nicoloff, then, solicited Horowitz to entrust the first 528 record album conversion for Tetrahedron Records. Nicoloff was paid in advance $2,500.00 to transpose Toronto vocalist Rosetta Stone's first album. After telling Horowitz and Stone that the transposition was done (after nearly 2 years of "unforeseen" delays), Nicoloff broke his contract and stole the money, delivering nothing, not even an apology.
So much for the 528 Deniers!
— End —
For more information on how social control is waged by the COINTELPRO, Click Here.
For more information on "Dr. True Ott," Click Here.
For more information on Buturff, Click Here.
About the Author: Sherri Kane is an investigative journalist who wrote for news anchors at Fox News in Los Angeles prior to pursuing an independent career and joining Dr. Leonard Horowitz in the launch of 528Records.com and 528Radio.com. Sherri's blog is SherriKane.com.