Frequency Rehab Franchise Financials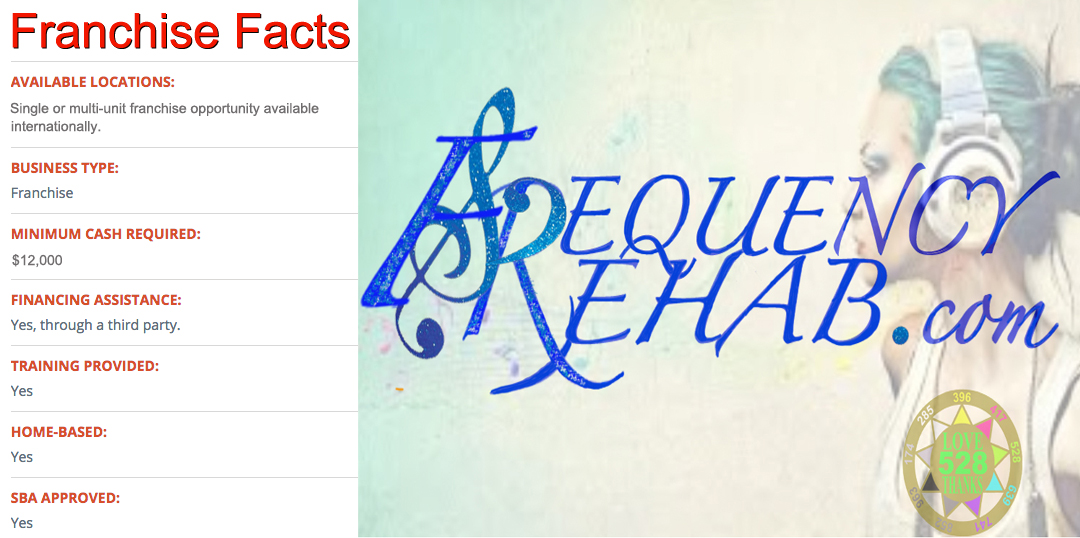 Remarkably Low Price for Extraordinary High Value Training and Franchise
The Frequency RehabTM investment ranges from the low price of only $12,000 if you are going to follow Dr. Horowitz's Course instructions and manufacture your own structured water equipment, bio-energy instruments, and consumer health products for your certified care-giving or licensed franchise ownership. Alternatively, your "turn-key operation" investment enabling you full operation within 90-days will be less than $25,000. You can simply purchase the required equipment, and the required stock, and thereby start your sales of Frequency Rehab Franchise consumer health products and caregiving services. The breakdown of these costs and projected earnings is provided below.
The Healthcare Industry Needs Your Franchise Now
There are three big reasons your Frequency RehabTM practice and/or franchise will succeed. The mass movement in healthcare invites this, because it has gone in three directions that promise a great return on your investment (ROI):
Exploding 'Homecare' Industry caring for 'Baby Boomers';

Increasing Economic Incentive to Rely on Natural Medicine;

Growing Consumer Avoidance of Side-Effects from Pharmaceuticals;

Growing Consumer Awareness of Benefits from Energy Medicine (e.g., magnetic, laser light, music therapies, and vibrating solutions like homeopathics) have gained widespread recognition, and people everywhere are eager to try them);

High Competition in the Home-care Industry Encourages Innovation for Commercial Advantage;

Caregivers seek easy to use healing and personally-enriching daily activities.
Below you can view and compare the top three Healthcare Franchises. Each takes advantage of the aforementioned trends in 2019. Their cash investments range from $25,000 to $114,000. Royalty fees range from 2.5% to 5%.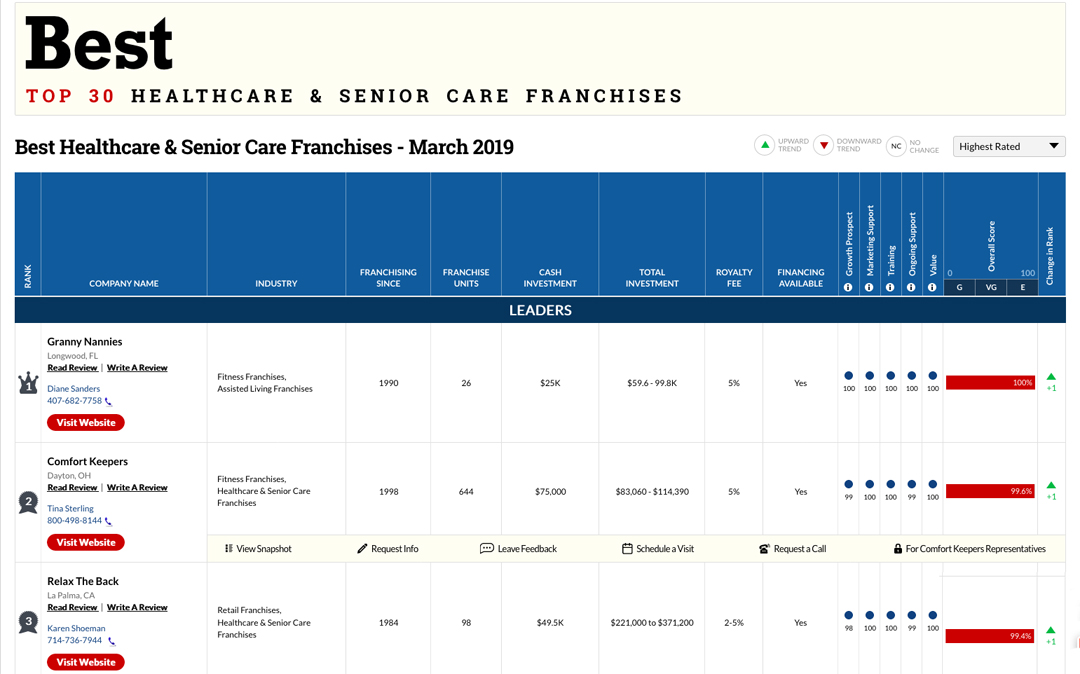 BUT HERE'S THE GREAT NEWS. None of these most successful franchises compete against your Frequency RehabTM Franchise, AND they each can benefit from the 'nothing-like-it' service that Frequency Rehab caregivers provide.
The top Healthcare Franchises actually favor your investment in Frequency RehabTM. In fact, they establish the HUGE MARKET for your perfectly-fitting and wonderfully-accommodating services and products.
Each of the Homecare and Senior Care Franchise owners and caregivers are ideal organizations and clients for Frequency RehabTM services. In fact, they would be foolish not to invite you to share your knowledge, demonstrate the benefits, and integrate your services into their already established markets and operations.
Frequency Rehab is easily incorporated into their already successful business model. Don't they benefit financially by growing their company? Of course they do. And they need to demonstrate their competitive leadership in the industry. That requires innovation that Frequency RehabTM offers best. Frequency Rehab caregivers provide the safest, most effective, science-based, natural care products, services, and equipment in the industry. Only a fool would refuse to consider this helpful healing and financially-enriching opportunity.
Comparing the Value of this Opportunity
Comparing gold to silver as a metaphor, a good university-level course costs between $250 to $350 per credit hour. That education is valuable, like silver. But Dr. Horowitz's intensive course offers nuggets of gold. He has put together a series of outstanding video instructional lessons that guide you every step of the way to success. He added helpful reading and study assignments, and interactive learning requirements. These lessons far exceed the quality and content of standard advanced-degree university programs.
Likewise, this franchise opportunity is unbeatable. Typically, franchises of lesser opportunity cost between $25,000 and a half-million dollars (US). Not so for the "Frequency RehabTM Franchise." Why? Because Dr. Horowitz is committed to making these revolutionary healing products and innovative healthcare services most affordable and accessible to care providers and receivers. We have a global, not simply local, vision and mission.
Harmonic Frequency Business Model Reflects Reciprocity
As a Frequency Rehab practitioner (or franchise owner), you will gain much more than a 'standard' hourly-service fee of $100 per hour. You gain extra commissions by helping our Frequency Rehab organization expand.
Our compensation is reciprocal. You receive 10% commissions for every person you register to take Dr. Horowitz's outstanding online Frequency RehabTM Course. That means $300 cash or Franchise Store credits you get for each referral who pays their $3,000 Course tuition fee.
You gain another 10% commission for every Frequency Rehab consumer product your referrals buy online at the Franchise Store. This can be substantial as your franchise grows for mutual benefit.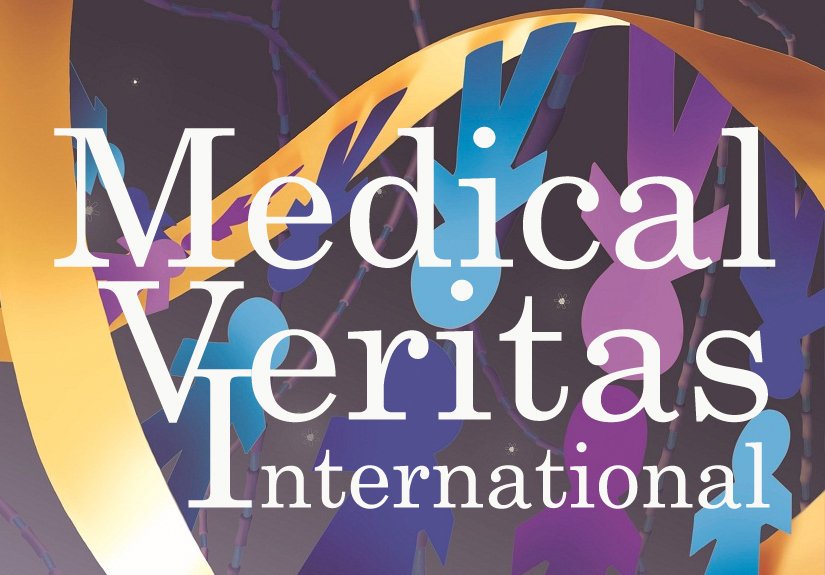 This enterprise encourages your entrepreneurship and 'creative genius.' After getting certified by Dr. Horowitz, you are encouraged to develop novel products, services, and equipment using Dr. Horowitz's ideas (i.e., intellectual property). Our contract only requires a 10% royalty (that is, a tithe) to our 501(c) non-profit (tax deductible) educational company, Medical Veritas International, Inc. This means you only pay us 10% of your income if you apply this know-how commercially using our Frequency Rehab brand. This reciprocal financial benefit helps everyone continue our relationships, expansion, and great impact in your community as well as more broadly in the healing arts and sciences internationally. Reciprocity also helps each of us cooperatively advertise the benefits of Frequency Rehab, and new product lines, even ones that you may invent.
In other words, when you or your franchise makes money from Dr. Horowitz's proprietary intelligence, the laws of physics and faithful application of 'LOVE 528 Dynamics' require mutual benefit to maintain the 'frequency of harmony' in our franchise relationship(s). This is our business philosophy and service model.
We Make Frequency Rehab Training Affordable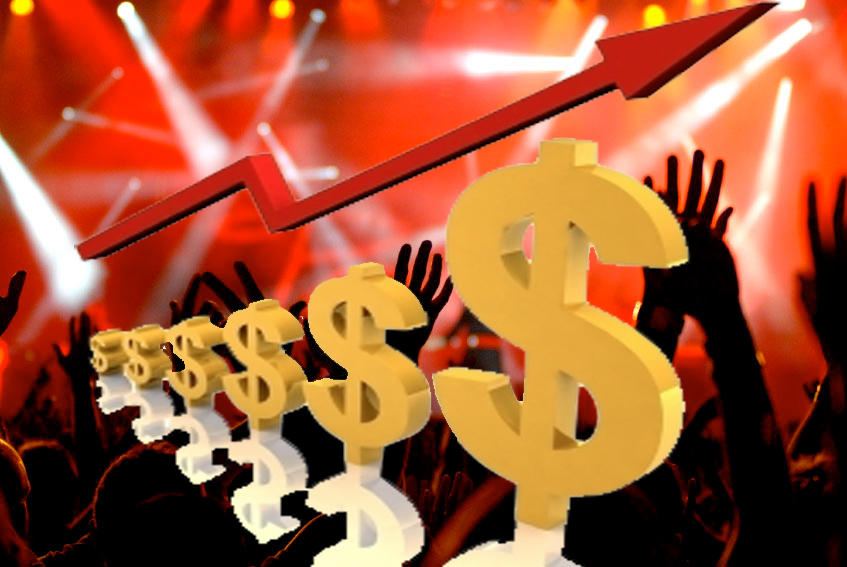 We make Frequency RehabTM Training Certification and franchising your know-how affordable. The Course tuition is only $3,000; payable in total upon registering or by credit card in six (6) monthly ($500) installments.
Each 'Frequency RehabTM Practitioner Certification' is signed by Dr. Horowitz, enabling graduates to advertise their valuable credential.
Graduates gain the opportunity to acquire their 'Frequency RehabTM Franchise' by completing the equipment design and development tutorials presented online by Dr. Horowitz.
Frequency RehabTM Equipment Requirements
Certified Frequency RehabTM Caregivers are required to have the same equipment as franchise owners except for the Frequency Resonance Water Structuring (FRWS) technologyused to manufacture consumer health products such as homeopathics and herbal elixers. There are only seven other items required to administer Frequency Rehab services as listed below. You can purchase these from our company, or make the therapeutic instruments yourself using the design and manufacturing lessons provided by Dr. Horowitz in the Course.  The required products and equipment include:
In addition, you will need the following audio-visual aids and consumer health products:
Solfeggio Eclectica Music-Video Therapy Program and Audio Album;
CBD528 homeo-alchemy general remedy (CBD528);
OxySilver w/528–1 Case (25 8-ounce bottles); and
528 Auto-Energizers Therapeutic Device for Pain Control
These provisions enable you to advertise your Frequency RehabTM Certification and/or Franchise services to build your career and caregiving business(es).
Two Affordable Plans to Acquire Your Frequency RehabTM Franchise

You can take advantage of two affordable plans developed to maximize the growth of your Frequency RehabTM caregiving practice, or your local franchise, while extending exciting alliances internationally.
Your first option, 'PLAN 1', is the "Do It Yourself Plan" for 'handy' candidates looking to save money by using their own craftsmanship. By attending Dr. Horowitz's Course, and learning from the doctor's easy to follow equipment manufacturing tutorials, you can save thousands of dollars–nearly half the cost of the 'turn key' franchise investment.
Your second option, 'PLAN 2', is available if you want to succeed most quickly as a 'turn key' business owner acquiring the Frequency RehabTM Franchise within eight weeks–the time it takes to custom manufacture your needed equipment. These two program are compared below.
I. Required Training
Both Plans 1 and 2 require enrollment in Dr. Horowitz's 12-credit hour practitioner and franchise owner/manufacturer course. The cost is $250 per credit hour, totaling $3,000. You can get started by making a payment of only $500, with five additional monthly payments due to complete your Course and gain your Frequency RehabTM Certification.
II. Required Equipment
You will need the following equipment and consumer products inventory to acquire your Frequency RehabTM Practitioner's Certification and/or Franchise license:
A. Plan 1 "Do It Yourself" Manufacturing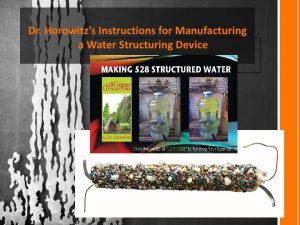 1. Frequency Resonance Water Structuring Unit (required for franchise owners only). This equipment enables you to manufacture of a variety of safe and effective consumer health products that you can brand and bring to market.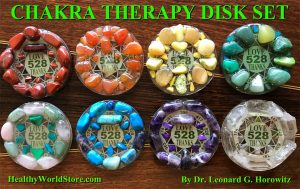 2. Chakra Disk Set (required for Certified caregivers and franchise owners). This equipment enables therapy sessions to be administered automatically, simply by placing the disks on the body adjacent the correct energy center, and allowing the recipient to relax.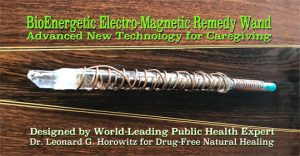 3. Bio-Energy (Bio-magnetic) Wand (required for Certified caregivers and franchise owners). This equipment provides an additional powerful therapeutic modality for administering selected frequencies for total body energy balancing, pain relief, depression remedies, and prompting 'miraculous healing.'
4. Enviro-magnetic Energy Generators (required for Certified caregivers and franchise owners). This equipment is placed adjacent the care recipient during treatments, and stays in their home or workplace to provide reinforcement of the healing energy frequency of 528 in the environment. The instrument is purchased by the client/patient giving the Caregiver an added 'profit center' from complementary product sales.
5. Solfeggio Eclectica Music and Video Therapy Program (required for Certified caregivers and franchise owners). This product provides multi-media therapeutic activities for clients/patients/groups to experience Frequency RehabTM behavioral and bio-acoustic benefits. This audio and video package helps practitioners and franchise owners expands their services and consumer markets.
B. Plan 2 "Turn-Key" Franchise Acquisition
1. Frequency Resonance Water Structuring Unit (required for franchise owners only).
Manufacturing Design and Production Training ($1500)

Unit Purchase $15,000 (Special order. Allow 6 weeks for delivery.)
Manufacturing Design and Production Training ($900)

Standard Set of 7 is $1,050 (Allow 6 weeks for 'special order' delivery.)

Deluxe Set of 7 (option) is $2,100 (Allow 6 weeks for 'special order' delivery.)
3. Bio-Energy (Bio-magnetic) Wand
Manufacturing Design and Production Training ($1200)

Unit Purchase $1,500 (Allow 6 weeks for 'special order' delivery.)
4. Enviro-magnetic Energy Generators

Manufacturing Design and Production Training ($900)

Unit Purchase $49-89 each. (Bulk discounts provided.)
III. Required Inventory
A. Supplemental Therapeutic Supplies

Required unique complementary consumer health products include: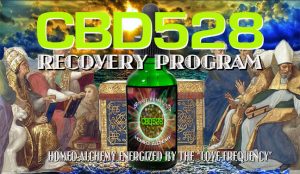 1. CBD528 Homeo-alchemy 'Spirit Remedy'
Caregivers and receivers gain a powerful natural remedy for pain and depression. Clients/patients take 3 drops under their tongues prior to treatment. (Special discounts provided. A 24-unit package is available for 50% discount off-of retail for Only $298.80.)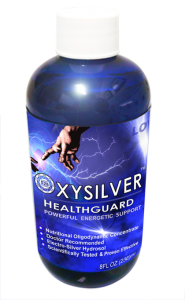 Caregivers and franchise owners stock this advanced immune booster and double superconductor of the frequency of 528Hz—the 'Miracle tone'—providing much more than broad-spectrum anti-microbial benefits. This technology compounds 'prayer power' and supplements all forms of natural healing. (Special discounts provided. A 72 unit package is available for 50% discount off-of retail for Only $1,438.20.)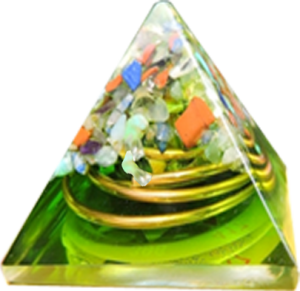 3. 528 Auto-Energizers 'Pyramid Power' Instrument for Pain Control
Caregivers and franchise owners stock this effective pain control device for homes, offices and vehicles. (Special discounts provided for bulk p

urchase. Suggested retail is $69 per unit, available for 50% discount for buying six or more.)
Totals and Return on Investment
Accordingly, the cost of this Frequency RehabTM opportunity ranges from a low of less than $12,000 to a high less than $24,000.
So what return on investment can you expect?
Assuming you were simply one caregiver desiring to regularly treat a person, or several others in need. And supposing you were simply going to treat one person per day for 5 days a week, at a rate of $60 per session (that would take about 30-60 minutes). That would generate $300 per week, $1,200 per month, and $14,400.00 per year. Meaning? If you chose Plan I, you would pay for the entire Frequency Rehab Franchise in only one (1) year. AWESOME!
Assuming you were to choose Plan II, to get started within eight weeks following your training. And that you would treat only two people as above. You would pay for your Franchise within (1) year. INCREDIBLE!
Start Right Now!
You can get started immediately by viewing Dr. Horowitz's free introduction to the Frequency Rehab Course by clicking on this banner and subscribing to our free Healthy World Newsletter. (You can unsubscribe at any time.)
RETURN to Home.
Go to Frequency Rehab Profile for Caregivers and Franchise Owners.