528 Germinate for Faster Bigger Harvests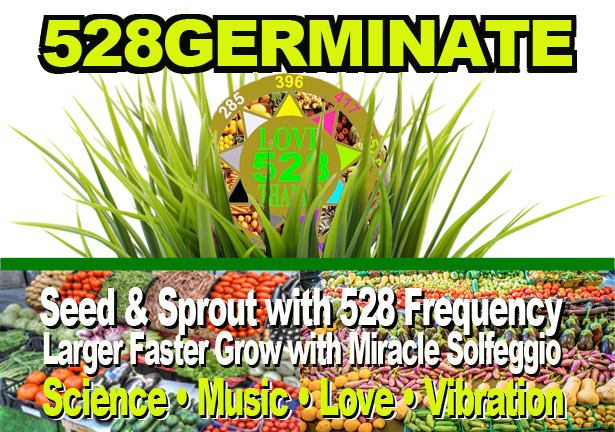 528 Germinate

is a Revolutionary New Agri-Solution Developed by Dr. Leonard G. Horowitz Based on Scientific Research to Increase Seed Germination Percentage, Vigor and Strength of Seedlings, Hasten Growth and Harvest Times, and Increase the Size of Sprout and Garden Produce.

____________
528 Germinate

Improves the Genetic Viability of Seeds by Optimally Hydrating and Naturally Invigorating Seeds to Sprout Safer, Better, and Faster, While Providing More, Robust, Larger Harvests Using a Combination of Silver, Oxygen, Organic Nutrients, and the "LOVE/528" Frequency of the Ancient Solfeggio Musical Scale.

Introduction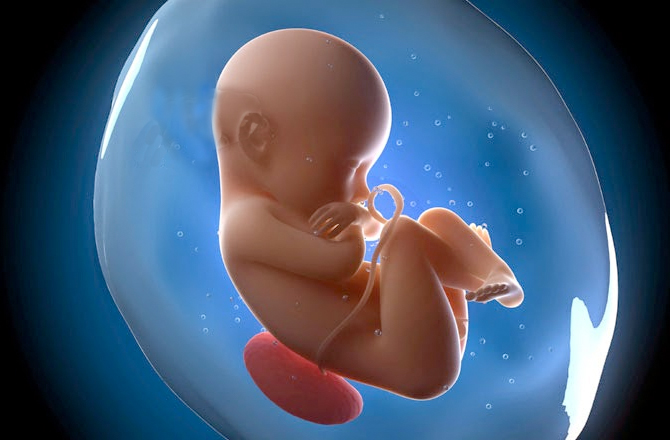 You would not incubate a fetus in toxic waste. So why incubate your seeds and seedlings in toxic tap water containing dozens of poisonous chemicals and heavy metals that kill people and pollute the environment?
Your average tap water in the United States contains: (1) toxic metals arsenic, antimony, and barium; (2) toxic anions fluoride, nitrates and nitrites; and (3) synthetic chemical poisons including atrazine, dalapon, and simazine–each from herbicide runoff.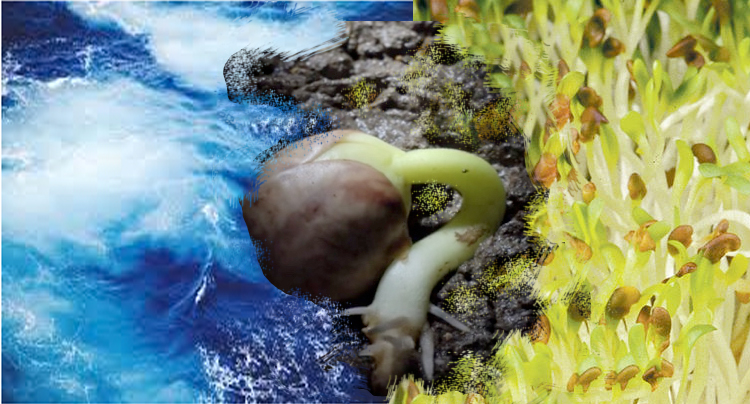 528Germinate revolutionizes the seed stimulating industry so important to agriculture. 528Germinate is a scientifically-developed seed primer, growth stimulator, and harvest builder for all types of gardening–sprouting, growing vegetables, plantings and fruit. This energizing food formula super-hydrates seeds, seedlings, vegetables and plants for more viable seeds, rapid growth, and larger harvests.
Soak your seeds in 528Germinate to "prime" them with the most loving, energizing, powerful, protective, and healing frequency in nature. The superconducting silver in 528Germinate, and its super-hydrating formula, primes seeds with the sound and light of 528nm/Hz–the most loving frequencies found in nature.
The "Love/528 Frequency" is the heart of sunshine; and 528Hz is the sound of buzzing bees making honey in hives. 528Hz is also the "MIracle Note" in the original Solfeggio musical scale, named for its miracle working energy. Super-hydrate your seeds, sprouts, seedlings and plants with this amazing 528nm/Hz resonating silver "structured water" fast-grow primer and spray shower, and witness miraculous growth rates and larger harvests.
Listen and learn from Dr. Horowitz introducing 528Germinate to radio listeners on The Source Naturals Radio Show, broadcast from Hawaii by clicking the player below. . . .
528Germinate_Radio_Introduction 10-14-17
Why Use a Seed Primer?

Seed primers have proven effective for "enhancing seed quality, seedling establishment and crop yields as well as increasing tolerance to environmental stresses."(1)  Soak seeds first with 528Germinate, and spray on sprouts, seedlings, and plants to deliver healing, sustaining, and rapid growing micro-nutrients. 528Germinate boosts botanical immunity against diseases using "OxySilver" vibrating in the 528 frequency to resonate nutrients superconducted by this "structured water" energized micro-silver-oxygen solution.
528Germinate protects plants from damaging infestations. It combines a patent pending formula and photosynthesized micro-silver-oxygen combination helping organic farmers protect their crops without dangerous and deadly chemicals. The all natural ingredients in 528Germinate stimulates DNA in seeds and plants to increase seed germination, "vigor strength" of growing seeds, and increase seedling yield nearly doubling growth rates and harvests in the "Spirit of 'Love 528′"–a revolutionary new concept in agri-science.(2)
What is

528Germinate

528Germinate is a 528 resonating structured-water silver-oxygen solution also containing a little organic cane sugar perfect for re-hydrating and priming seeds. This unique primer is made to deliver 528nm of light and 528Hz frequency of sound to primed cell membranes stimulated by the micro-fine super-conducting silver particles covalently-bonded to the oxygen in water. The entire solution is photosynthesized with the "power of love,"–that is, the frequency of love that was discovered by Dr. Leonard G. Horowitz following the work of Dr. Joseph Puleo in revealing the attributes of the original Solfeggio musical scale; especially 528nm of greenish-yellow light that is the pigment in plants called chlorophyll. Chlorophyll sustains life on planet earth by producing oxygen.
How

528Germinate

Works
528Germinate works by super-hydrating seeds and delivering essential nutrients (sugar and the natural enzyme in seeds) deep within the seeds and seedlings with "the message of love," priming the seeds to "be all that they can be." Farmers and gardeners commonly prime seeds with plain water that sadly destroys many seeds with harmful chemicals and damaging heavy metals. Then they fertilize to secure healthier plants and more bountiful harvests. This just doesn't make sense. It's like bathing a fetus in poisons and hoping for a healthy neonate.
In addition, most agri-enthusiasts recognize "prayer power" as beneficial to sprouting seeds and growing plants. Scientific studies, empirical evidence, and anecdotal reports, indicate the "good vibration" of positive prayer, and heartfelt loving intention for healing and growing, works wonders—including many reported miracles. 528Germinate resonates at the same frequency produced by your heart–528Hz. This bridges the gap between modern science, acoustics, musical-mathematics, biophysics, electrogenetics, and metaphysics justifying and explaining the "spiritual energy" dynamics central to biology and sustainability.
Technically, 528Germinate uses super-hydrating "structured water" (also called "clustered water") to deliver micro-nutrients (carbohydrates and amylase enzyme already in seeds) along with tiny silver particles bound to oxygen in the water, all resonating at this precise beneficial 528nm/Hz frequency of sound and light. Biocompatible silver nanoparticles (AgNPs) are newly recognized additives in agriculture.(1-4) 528Germinate is synthesized using methods originally developed by NASA scientists to keep astronauts healthy in space. Branded by Dr. Horowitz as OxySilver, 528Germinate starts with OxySilver, and then 528nm/Hz energy generators photosynthesize the AgNPs at very low levels (below 3 to 6 ppm) to significantly improve "germination performance" and the vigor of seedlings, advancing the research of Mahakham, et. al., published in Scientific Reports. (2) A similar approach to improving germination performance was reported superior to unprimed controls, silver nitrate (AgNO3) priming, and conventional hydropriming using tap water.(2)
Priming seeds with 528Germinate enhances alpha-amylase enzyme activity, resulting in higher soluble sugar available to seedlings to support faster, more vigorous, growth.
In addition, research shows that priming with AgNPs at this low concentration (3 to 6ppm) stimulates genetic production of aquaporins—the tiny channels in cell membranes required to absorb water, oxygen, and micronutrients deep within seeds. Priming seeds this way also increases oxygen and natural energy to boost cell vigor between 33 and 42 percent compared to controls.(2)(4)
Also, antioxidant enzyme activity, alkalization, and oxygenation, increases substantially in seeds primed with AgNPs. The higher antioxidant enzyme activity (by superoxidedismutase ["SOD"] and catalase ["CAT"]) from seed priming with 528Germinate corresponds to much higher and faster germination rates recorded in related studies.(2)
Only seeds primed with AgNPs generated –OH, that is, the hydroxyl radicals/reducing agents that carry extra energy electrons invigorating seeds.(2)
Accordingly, seed priming with 528Germinate—photosynthesized AgNPs solutions at very low concentrations induce more rapid water uptake into the seeds, as well as more electron energy into the seeds. "Water uptake in seed germination process is essential because mature seeds are quite dry and need sufficient amount of water to start cellular metabolism and growth."(2)
Two aquaporin genes, PIP1;1 and PIP2;11, involved in water uptake into seeds were found enhanced by AgNPs seed priming. This could play a role in the observed expression of these genes, and as shown with some vegetable crops, is likely a mechanism for "enhanced seed germination."(2) Mahakham, et. al., explained that AgNPs stimulated seeds, observed to increase aquaporin genees, enhance the diffusion of H2O2 oxygenating energizing electrons in germinating seeds, which "further lends support to our argument that both aquaporins and [reactive species of oxygen] could participate in enhancing seed germination.
How to Use

528Germinate
There are several uses for 528Germinate in priming seeds, stimulating and protecting sprouts, boosting the immunity of seedlings, growing larger and healthier vegetables and plants. Obviously, this is great news for permacultural sustainability and food production for civilization.
528Germinate

as a Seed Primer
Put one ounce of 528Germinate into seed germinators or sprouting chambers to thoroughly wet (i.e., prime) your dry seeds. For people who respect "prayer power," add a prayer or positive heart-felt loving intention for the seed to sprout optimally well, affirming this result. Don't feel silly cupping your hands over the priming chamber as you pray or give your affirmation, because your bioenergy field coming off the palms of your hands is most powerful, as is your heart, in radiating the 528 frequency of sound and "love light" resonating in this wonderful silver-water-nutrient solution.
To save money, reuse the same 528Germinate priming solution until you need to use more. Don't worry about germs growing in 528Germinate. The supercharged silver and oxygen kills them, protecting your seeds and sprouts with "LOVE528."
528Germinate

as a Sprout and Seedling Stimulator
Spray a gentle mist of 528Germinator on new and growing sprouts and seedlings to energize, protect, and feed them as they grow. Use the high quality sprayer the comes with every bottle of 528Germinate.
528Germinate

as a Plant Protector and Stimulator.
Spray a gentle mist of 528Germinator on new and growing plants, especially vegetables, to energize, protect, and feed them as they grow. Use the high quality sprayer to mist growing vegetables, and adjust the stream if needed to soak larger growing plants.
528 Germinate

Comes with a Full Money-back Satisfaction Guarantee
If you are not completely satisfied with the benefits of using 528Germinate as directed, simply contact us for a full refund of your purchase price (less shipping & handling).
528 Germinate Summary and Usage
Use 528Germinate instead of "dead" toxic water to prime seeds, stimulate and protect sprouts, boost the immunity of seedlings, and grow larger healthier vegetables and plants faster. For Seed Priming
use enough to wet seeds thoroughly in your germinator or sprouting chamber. Add "prayer power" and affirm healthier faster growth. Reuse as much as possible for economy. As a Sprout and Seedling Stimulator, spray on new and growing sprouts and seedlings. As a Plant Protector and Stimulator, spray on new and growing plants, especially vegetables, to energize, protect, and feed them.
Wholesale and Retail Accounts Welcome
We welcome both retail and wholesale customers. Help spread the word about 528Germinate, its benefits, and uses to help others grow healthier foods faster. Contact HealthyWorldStore.com at 888-508-4787, or connect online, to order toll free.
All Natural Ingredients:
Structured water, micro-nutrient silver, organic cane sugar, H2O2, 528nm/Hz frequency resonance.
CLICK HERE to Order 16-ounces of 528Germinate in a glass bottle a with durable adjustable sprayer for ONLY $60 (plus shipping & handling).
FOOTNOTES:
(1) Chen K, Arora R. Priming memory invokes seed stress-tolerance. Environ. Exp. Bot. 2013;94:33–45. See also: Ibrahim EA. Seed priming to alleviate salinity stress in germinating seeds. J.Plant Physiol. 2016;192:38–46.
(2) Mahakham, Sarmah, Maensiri, and Theerakulpisut. Nanopriming technology for enhancing germination and start metabolism of aged rice seeds using phytosynthesized silver nanoparticles. Scientific Reports 2017; 7: 8263. Click here to read: Seed Germinator Study.
(3) People don't realize that the water used to prime seeds for sprouting and planting is often poisoned with toxic chemicals, such as fluoride, chlorine, bromine, and antibiotics sourcing from medicine. Priming seeds with this poison is much like bathing a fetus in toxic waste and expecting a healthy neonate.
(4) Silver nano-particles have received extensive research in the fields of medicine and agriculture. Needless to say, multi-national corporate owned science companies have recognized benefits of nano-silver products that compete directly against anti-biotics and vaccine makers.