Journalist Assaulted in Foreclosure Scandal
Journalist Sherri Kane Assaulted and Arrested For Videotaping Judicial Corruption in Foreclosure Scandal Impacting National Economy and U.S. Government Bankruptcy

NEWS FEATURE
Release: No. 3-SKane-1
Date Mailed: Oct. 3, 2013
For Immediate Release
Contact: editor@medicalveritas.org
Honolulu, HI—A celebrity journalist was assaulted and arrested by two armed "public safety" officers for videotaping violations of homeowners' Constitutional rights by banks, lawyers, and a famous judge administering America's greatest taxpayer rip off–the principal cause of the U.S. Government "shut down"–the foreclosure fraud scandal.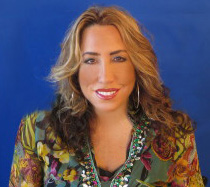 Internationally known investigative reporter Sherri Kane is no stranger to explosive assignments. She sourced ex-Governor Jesse Ventura's TruTV segment evidencing commercial sabotage best explaining how and why the Deepwater Horizon "BP oil rig" blew up on April 20, 2010, ironically the same day her residence in Pahoa, HI, was illegally foreclosed upon.
The foreclosing auctioneer, Hilo attorney Paul J. Sulla, Jr., had already received a Public Censure by the US Tax Court and Supreme Court of Hawaii. Years later he suspiciously escaped arrest after being named in Federal indictments along with two clients convicted for tax evasion and money laundering through a sham "religious" trust contrived by Sulla and America's leading tax evasion guru, Lamar Hardy. Each of the three non-lawyer conspirators were jailed for their crimes; but Sulla walked. Soon after, he repeated the sham "religious" trust scheme to acquire Kane's residence through an illegal non-judicial foreclosure in contempt of three court rulings neglected by three different courts.
Outlaws in Justice Link to the President

Corruption in the judicial system is widespread, but most obvious and outrageous in Hawaii where commoners claim the courts are controlled by the "Japanese mafia."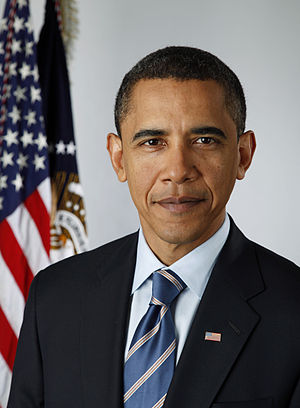 Freelancer Kane began her "activist career" writing about Barack Obama's curious rise to power. She was among the first journalists to write and speak openly about the shaping of the President's future by money raised by Weather Underground terrorists William Ayers and Bernadine Dorn–campaign financiers and close friends with Obama's parents. Dorn and Ayers were covertly funded to bomb the Pentagon on May 19, 1972, and are widely assailed by America's Political Right as treasonous Communists causing America's economic collapse.
Kane's presence in court at the time of her assault and arrest had much to do with poverty and America's commercial shut down, racism, barriers to equal opportunity, "justice-for-all," devastated families, degenerating communities, and ongoing corruption in the political system that Ayers and Obama's kindred Woods Fund supposedly addressed.
"[S]heriffs grabbed Kane's hands and arms, twisted her wrist to confiscate the video evidence, shoved her against two seated witnesses, pulled her to the ground, and dragged her injured and crying down the center isle and through the courtroom's double doors. The 'peace officers' then dropped Kane in the hallway in shock, mocked her crying, and claimed they never touched her."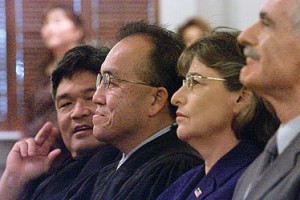 Ironically, the judge that ordered Kane's assailants to "Remove her!" was Bert I. Ayabe—Barack Obama's chief protectionist denying the media's access to the infamous "Birth Certificate" threatening Ayers's investments in the Commander-in-Chief's presidency.
In the photo above, Bert Ayabe is seated left of  Gov. Linda Lingle's 2005 judicial appointee, Randal K.O. Lingle named Ayabe judge the previous year. To Lindle's right is Richard Turbin, the wealthy lawyer who opposed the gifting of homes in Hawaii's classiest neighborhood to Hawaii's poorest families by Gensiro Kawamoto, a reclusive Japanese real estate billionaire.
So this story really has the makings of a Hollywood blockbuster, since Constitutionally compelled corruption avenger Kane is widely known for getting in the face of such powerful people, much like she did in Ayabe's courtroom before he ordered her arrest on Sept 10, 2013. The video evidence captured by Kane and her partner, Dr. Leonard Horowitz, proves Ayabe's primary intent was to conceal the developing story of a civil rights revolutionary and common law authority, Anthony Williams, confronting the judicial system, the Bar Association, and Ayabe's court in particular, with allegations of treason and racketeering in organized crime.
Why Kane Went to Ayabe's Court: Unequal Justice Destroying Families, Communities, and America's Economy
Horowitz and Kane were dubbed "The HOROKANE" by KKK proponents associated with past FBI Director, Ted Gunderson–J.Edgar Hoover's immediate subordinate responsible for targeting Martin Luther King and Malcolm X's civil rights and community development actions. The FBI program was called COINTELPRO. It dealt in "dissident" organization infiltration, leadership defamation, and political assassinations.
The HOROKANE, similarly plagued by agents of evil, met Anthony Williams while filing for relief from their foreclosure headaches caused by attorney Sulla, Jr. false filings of forged securities instruments with State agencies. "The HOROKANE" found Williams's legal approach to saving people's properties intriguing, and began to investigate him and his company, Common Law Offices of America, long before the current courtroom actions began.
Williams was solicited to come to Hawaii by several women, including Edna Franco, whose "mortgage rescue" company had been shut down by the Hawaii Department of Commerce and Consumer Affairs that works with Louie's office.
Franco informed Horowitz she worked on Louie's foreclosure fraud committee, and had an ax to grind with attorney Paul Sulla, Jr., further evidenced by an e-mail she sent County prosecutor, Rick Damerville. (See: Edna Franco E-mail Rick Damerville re Sulla.)  Franco had been referring foreclosure fraud victims to Sulla, and later Williams and his organization.
Curiously, Williams and most of his Hawaii associates, aside from Franco and her team working closely with Williams, were recently indicted on what appears to be trumped up charges.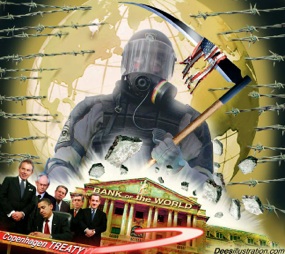 At the time of this writing, Williams is under arrest on false charges of "child molestation" and "practicing law without a license," even though air travel records prove Williams was in Hawaii when the alleged molestation happened in Georgia.
Weaving a further web of irony, Kane uses her pen as "therapy" for being sexually molested as a child—"like what happened to most women I know," she said, referencing official statistics evidencing a shameful quarter of women in the America are sexually molested as children.
More shocking, Williams proved in open court a week after Kane's arrest, that he had been framed by Louie and the FBI using a forged fingerprint record. Stupidly, Prosecutor Simeona Mariano's record received from the FBI allegedly proved Williams was seventeen days old, "in diapers," at the time he was supposedly arrested for committing his first property theft!
"I just can't stand this injustice," Kane complained minutes after being physically assaulted and emotionally devastated by two armed employees of the Hawaii Department of Public Safety (HDPS) who were four times her size.
Rather than a "civil escort" for the civil rights activist and animal lover, Kane was dragged from Ayabe's courtroom by sheriff-assailants using excessive force to rip the small camera out of her hand as a packed gallery watched in disbelief.
"I was trying to avoid the camera flying out of my hand and breaking, but I could not overcome the strength of these bouncers," Kane recalled.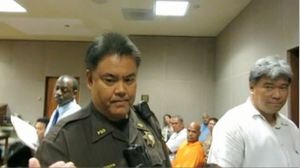 Ayabe's sheriffs grabbed Kane's hands and arms,  twisted her wrist to confiscate the video evidence, shoved her against two seated witnesses, pulled her to the ground, and dragged her injured and crying down the center isle and through the courtroom's double doors. The "peace officers" then dropped Kane in the hallway in shock, mocked her crying, and claimed they never touched her.
(Click photo above of Deputy D. Yanagi (left) and K. Kim (right)  to view video footage of the recorded events.)
Deputy Yanagi then demanded that the two journalists leave the courthouse.
The paramedics were called by one of the witnesses, and the emergency responders' escorted Kane into the witnesses' waiting room to examine her. After her bruises were revealed, and several witness came forward to testify, the sheriffs' supervisor–Deputy M. Murota–refused to take any reports of the assault from anyone other than his deputies and officers of the court. Minutes later, he  declared he would be arresting Kane.
"My arrest was an obvious 'cover-up' and alibi in defense of his subordinates' excessive use of force," said Kane. "Thank God some of the witnesses recorded each others' testimonies on their cellphones."
"Deputies Yanagi and Kim were obviously trained as Neanderthals, courtesy of the Sheriffs Department." Horowitz opined. "They put Kane in the hospital and nearly killed her from cardiac distress for which doctors rushed to administered i.v. sedatives and blood pressure depressants to mitigate risks of her third heart attack."
It was not a proud day for the HDPS. The assailants violated Kane's body along with the First Amendment, making her job a Constitutional duty to ask the key question. . . .
"What law?"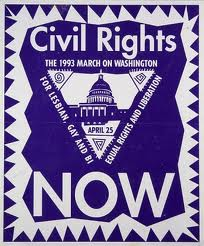 "What law authorizes any court to stop a journalist from silently videotaping and investigating organized crime committed under color of law in a public hearing–in open court in which collection agents for the world's wealthiest banks devastate families, communities, and the national economy, administering unlawful foreclosures and evictions in breach of Constitutionally-guaranteed rights?"
And this treason is occurring in every community; "with this state passing the 'Sunshine Act,' no less," Kane added, referencing Hawai'i supposed "openness" to consumer protecting transparency in government operations.
Proceedings Precipitating Kane's Assault and Arrest
"The only people disrupting government operations in that courtroom was judge Ayabe and his henchmen," recalled Dr. Horowitz, editor of Medical Veritas Journal. "The Clerk claimed Ayabe's right to censor our videotaping of Williams was based on the Supreme Court of Hawaii's  "Rule 5." That is an administrative procedure; not a law, nor even Constitutional."
The Clerk claimed "Rule 5" authorized video censorship and Kane's ejectment, treason against the nation in a modern courtroom that routinely neglects to record its railroading of foreclosure fraud victims into poverty.
Rule "5" pertains to the "APPLICATION FOR EXTENDED COVERAGE"  which had been submitted by fax a day prior, since Horowitz and Kane were called in to do the last minute shoot.
The Ayabe Court neglected to record the foreclosure hearing that day in Honolulu's most modern courthouse. And the court officers neglected to reply to Kane's question, "What law prohibits a journalist from videotaping this public hearing,"
Kane's ordeal and question is one that journalists worldwide are asking, and every citizen concerned about the U.S. Government's sick economic state should be asking–inquiries challenging the legitimacy of every courtroom in America employing officers to administer what amounts to a Lex Lutherian protection racket for an "enterprise" exclusively profiting lawyers, judges, and the banks.
"Our faith in the Fed, governors, and law enforcers has been misplaced in officials neglecting their oaths of office, Constitutional mandates, and common law civility," Horowitz said.
This is why Kane spent her morning on Sept. 10, 2013, in the hospital and her afternoon in jail.
Horowitz was in Ayabe's court for the second time in a month to record Williams—who instructed Horowitz and Kane that "We The People are the court, not the judge."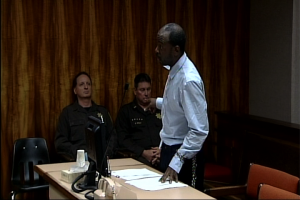 Williams informed Ayabe that "no lawyer is lawfully licensed," as The Bar members' monopoly over judicial processes is a violation of the Sherman Anti-trust Act; and that he, Williams, is not in the court to "practice law," but to "perfect the law" on behalf of millions of defrauded homeowners and common law defenders nationwide.
Ayabe was noticeably agitated. He informed Williams that his presence in the court violated the "licensing law." He barked that the Chief Justice of the U.S. District Court in Honolulu, Susan Oki Mollway, had already ruled to deny Williams any standing to act as a "Private Attorney General" and "attorney-in fact" for impoverished victims of foreclosure fraud, despite Congress's laws encouraging and protecting Williams's actions.
Williams reminded Ayabe about his oath to defend citizens rights, not the concealment of a judicial-banking enterprise violating due process and civil rights.
"Trial by jury and due process is required for every homeowner threatened by banking and foreclosure fraud," Williams argued.
Ayabe got frustrated. "Are the defendants in court?" he asked Williams.
"Yes, sir. The flesh and blood parties are here on behalf of their 'STRAWMAN CORPORATIONS,'" Williams chided.
That infuriated Ayabe for the following reason: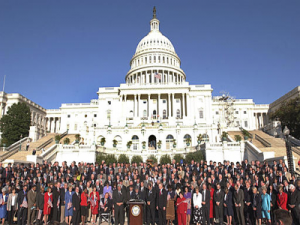 The "STRAWMAN CORPORATION" is your "corporate fiction" that is written on your driver's license or Social Security Card in all CAPS. Your parents obtained your CAPITAL STRAWMAN unwittingly by filing for your "BIRTH CERTIFICATE." That personal identification enrolls you automatically, secretly, and damagingly in a commercial CAPITAL scheme contrived by the "Central Banks" to leverage your person as property through a "corporate bond"–a commercial property–much like a security that is exchanged in a "black op" for profit; or creating a concealed market for organized crime; or much like mortgages that are sold multiple times without the borrowers' knowing their signatures have been mass produced (i.e., "robo-signed") to leverage their personal debt and good payment history.
Because this is a fundamental scam, "officers of the courts," including lawyers, clerks, politicians, and law enforcers who swear to defend American citizens and the Constitution, break their oath in aiding-and-abetting this neglected and concealed form of securities fraud.
In essence, the entire judicial system operates complicit with the banks as an illegal "enterprise" at the forefront of ripping taxpayers and homeowners off. And like a "protection racket," the scam prevents enforcement of existing laws, and hampers justice being served.
Most officials don't even realize they are complicit in destroying families, communities, and the U.S. economy this way. They remain clueless about the STRAWMAN scheme or why it's profitable to the banks and criminal justice system.
"The Constitutional foundation of America has crumbled beneath the weight of these omissions and misrepresentations in the language and procedures of "LAW," asserted Horowitz. "'In-Justice-for-All' has become impossible to gain for the ill informed, financially strained, and politically disenfranchised average taxpayer and homeowner. And this is the primary cause of America's commercial collapse."
"Commercial debt is akin to sin in the religious world," Horowitz reasoned. "In Hawaiian culture, it is not 'pono' or righteous to abuse unwitting defenseless people. Karmic judgment day arrived with Williams's day in Ayabe's court, and the shutting down of federal services in Hawaii and elsewhere evidencing Williams's claims."
This is why Ayabe exploded the moment Williams distinguished his "flesh and blood" clients from the STRAWMAN CORPORATIONS he correctly called "CORPORATE FICTIONS."
At that moment, videotaping became Ayabe's primary concern as the clip shot by the doctor shows. Then, compelled by the injustice, Horowitz handed Kane his camera and exited the courtroom.
Then, Ayabe, most concerned about exposing these concealed facts, directed his guards to Kane, who had been silently recording Horowitz's departure.
Kane then asked the BIG question: "What law?"
"Remove her!" ordered Ayabe.
CLICK HERE to view Kane's assault video.
The Charge of Treason Under Color of Law

The Ayabe court did not record Williams's hearings, and neither did the mainstream media in Honolulu who had been alerted to the history-making story. This neglect compels members of the independent media to action.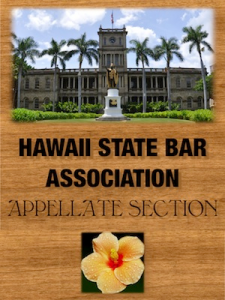 According to criminal case law, Ayabe's acts of concealing video evidence of a crime, censoring the free press in violation of his oath of office, damaging Kane physically, emotionally, and commercially in the process, satisfy the charge of criminal contempt of court, committed by the court.
The unwarranted and unlawful act of independent media censorship, committed to conceal blatant crimes from members of the free press, is certainly actionable and arguably treasonous.
Erroneously, the Clerk claimed that restricting the silent videotaping was authorized by "Supreme Court Rule 5."
In fact, reading the antiquated Rules 5.1 and 5.2, proves they were made before the explosion of wireless communications in the consumer market. Hand-held cellphone-size video cameras are not in the least disruptive to any public hearing.
Rules 5.1 and 5.2 were drafted by the Supreme Court of Hawaii to reasonably balance free press duty v. trial party privacy when large television cameras, hazardous cables, and multiple microphones were deployed around courtrooms. These old rules balanced the courts' need to mitigate obstructions and violations of defendants rights to privacy, and getting a fair trial, with the Constitutional guarantee of securing honest news coverage.
Consequently, these "rules" were moot in Kane's case, and obviously used as an alibi for administering unreasonable and unlawful censorship in a case with profound social, economic, and political implications and headline news worthiness.
Additionally relevant, Hawaii's law §710-1076 covers "Tampering with physical evidence," and states,  "A person commits the offense of tampering with physical evidence if, believing that an official proceeding is pending or about to be instituted, the person: (a) Destroys, mutilates, conceals, removes, or alters physical evidence with intent to impair its verity in the pending or prospective official proceeding." [Emphasis added.]
This is precisely what Ayabe did in "obstructing government operations" by calling everyone's attention to the ubiquitous video recording ongoing in the gallery. This action by the Court, occurred instantly upon Williams's STRAWMAN disclosure, vicariously charging the Court with racketeering in conspiracy with the banks, reinforced by the press censorship.
Kane's Concerns About Her Assailants and Public Safety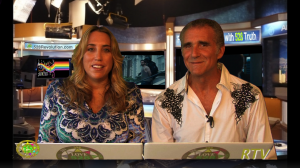 Adding sexual insult to her physical injuries, two weeks after her assault, during Williams's extradition hearing on the false charges of "child molestation," Kane was again in the courtroom covering these unprecedented events. She heard the courtroom door open, and turned around to see Deputy Yanagi winking at her and blowing kisses. She read his lips whispering the threat, "We're going to get you too."
His sexual harassment and threat compounded his and Kim's use of violence. And these actions by a sheriff violate U.S. Civil Rights code 42 USC § 13981, that authorizes Kane to sue her assailants as a victim of violence motivated by gender.
"They didn't assault Dr. Horowitz because he is a man," Kane said. "They assaulted me because, in my opinion, they probably assault their wives. I say this based on their automatic use of brute force that they believed they were entitled to use against me, a woman one quarter their size."
"My concern," Kane continued, "is for the women in their lives, and the public's safety in their courts. If you let these physical abusers get away with it the first time, they make it a habit."
So Kane's job as a journalist is now twofold: write to defend the Constitution against its further erosion; and secure the courts against risks of terrorizing attacks by guards against citizens and  journalists.
"I wasn't 'Obstructing Government Operations,'" Kane said about her Summons and forthcoming criminal hearing. "I was exercising my absolute privilege and Constitutional duty as a journalist recording a crime that evades exposure, skirts questions of law, and authorizes damaging acts of censorship and discrimination for profit. I was gathering video evidence for research in the pubic interest. So, I was dutifully securing lawful governmental operations" for We The People.
-end –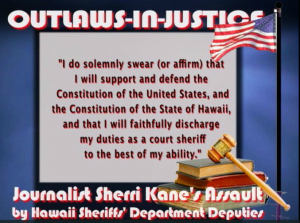 CLICK THIS LINK OR IMAGE TO VIEW THE ASSAULT VIDEO.

NOTE TO SYMPATHIZERS: Ms. Kane requests your prayers for her upcoming arraignment on October 8th, 2013, in the District Court of Honolulu. Pray that her case of false arrest and malicious prosecution is dismissed; and please forward this history-making story to people globally in unity and advocacy for freedom of the press in protection of civil rights.                                                         
NOTE TO JOURNALISTS: Video evidence of Ms. Kane's assault and arrest are published on Revolution Television on Vimeo. Interviews with multiple eye-witnesses to Ms. Kane's assault and arrest can be obtained by contacting her at Sherri@sherrikane.com. Dr. Horowitz can be contacted by e-mailing: editor@medicalveritas.com
P.O. Box 75104, Honolulu, HI 96836 • 808-946-6999 • 528Revolution.com