Hawaii Outlaws-in-Justice by Sherri Kane
Sherri Kane Reports on Hawaii "Outlaws-in-Justice."
Anthony Williams has been "set up to go down."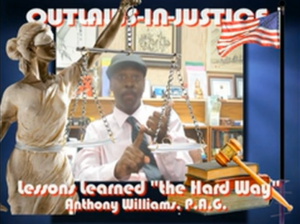 Dr. Leonard Horowitz and I have been investigating Mr. Williams for months. We know him personally now.
We conclude he is a very energetic spirit-filled man working 18 hours-a-day to do something historic for people everywhere; and great things for the "American justice system"–exposing its FRANK FRAUD.
Mr. Williams advances grassroots solutions to litigation problems through lessons learned "the hard way" in Common and Constitutional Law.
Williams is doing what no one has ever done before. That is, restore integrity to the justice system. He calls it, "perfecting the law" not "practicing law," but he is being falsely charged with "practicing law without a license."
In essence, he is BOLDLY exposing the fundamental flaws, fraud, and organized crime in every courtroom in America; applicable to every nation claiming to be fairly governed.
We conclude Mr. Williams is an American hero targeted by the banks like every other major political activist–leaders like Martin Luther King, Malcolm X, John Lennon, even Albert Einstein who opposed nuclear developments.
Williams is being discredited by agents for the system he is heavily damaging by revealing the real secrets behind courtroom dramas; facts about the illegality of "lawyer licensing," and suppressed solutions in Common Law, Constitutional Law, and UCC commercial law.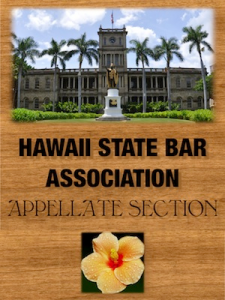 We conclude he is a hero! And the "pedophile" defamation he has received from Hawaii Attorney General David Louie is standard counter-intelligence propaganda for which Louie should be, and probably will be, sued by Williams.
We know what the Star Advertiser published, and what some TV stations are reporting about Williams, is outrageously false and misleading.
Need proof? Simply read the Advertisers' request by Hawaii's illegal foreclosure money man, Mr. David (AG) Louie, who wrote: "Anyone who hired Williams believing that he was a licensed attorney in the state of Hawaii and received what was believed to be legal assistance, representation or advice is asked to contact the Investigations Division, Department of the Attorney General . . ."
FACT:  Anyone who says they "hired Williams believing that he was a licensed attorney . . . " is either: a) a lying government dirt-bag; or b) a complete idiot; because Williams holds profound disrespect for Bar certified "attorneys-at-law" also called "lawyers."
Alternatively, Williams rightfully claims he is a "private attorney general," and an "attorney-in-fact," advocating for many poor people who have been defrauded by Bar-certified lawyers that fraudulently claim they are "licensed." He tells everyone this, including every judge he appears before. THAT IS WHY THEY HATE HIM!
In fact, Williams CORRECTLY asserts that our local Hawaii DCCA that licenses "all" professionals does NOT license lawyers because (if you want to know the truth) the Bar monopoly over the justice system is grossly illegal since the passage of the statute of Monopolies Act in the 1600s. (In Hawaii, we still are required to honor British Common Law).
So, if you really do your research, like Williams did, you expose GROSS CONSUMER FRAUD ongoing under our assumed "legal" authorities.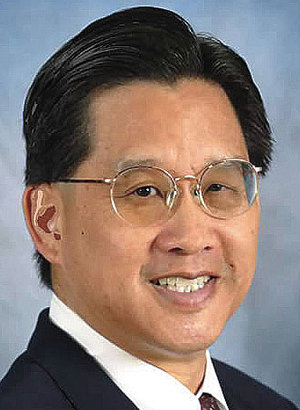 Frankly, Hawaii's AG, David Louie, has more than Williams's defamation and persecution to explain. Louie needs to explain his own "impression of impropriety" and intimate, purportedly illegitimate, involvement in administering the money supposedly helping defrauded homeowners.
Initially, $25 billion was promised to help pay back defrauded Americans victimized by foreclosure fraud and predatory lending schemes–high crimes by the major banks.
Somehow, the billions dwindled–reduced to only a few billion. Then, unfortunately for Hawaii's victims, only $7,911,883 became available under Louie's administration.
BUT LITTLE OF THIS MONEY ACTUALLY GOES TO HELP VICTIMS OF THIS ORGANIZED CRIME GANG THAT IS ACTING AS COMPLICIT CO-CONSPIRATORS AIDED-AND-ABETTED BY WILLFUL BLINDNESS OF LOCAL JUDGES AND BAR MEMBERS (i.e., corrupt lawyers.)
Before I give you the outrageously disgusting payoffs, that is, the "bribes" or  "hush money," imagine having lost your life's earnings, and the roof over your head, to foreclosure fraud, like thousands of Hawaiian homeowners who elected Gov. Abercrombie and AG. Louie.
Now read who got the lion's share of the money in Hawaii under Mr. Louie's direction:
$7,911,883 TOTAL ALOTTED:
$3 million to Legal Aid and its grant partners Consumer Credit Counseling Services of Hawaii, Hale Mahaolu, The Hawaii HomeOwnership Center and Hawaiian Community Assets;
$2 million to the department of Commerce and Consumer Affairs;
$1,176,293 to the state judicial system;
$149,225 to the Kuikahi and West Hawaii Mediation Centers; and
$57,122 to the Mediation Center of the Pacific;
Here's what Louie published:
"These checks come from a $1.5 billion payment pool we negotiated and set aside as part of the National Mortgage Settlement, . . . These payments help compensate borrowers for the mortgage servicing abuse that they likely endured. And I'm pleased that the final amount of $1,480 is much higher than the minimum amount we first announced, which was $840."


$1,480 instead of $840. Wow, that's terrific Mr. Louie. Gee, thanks.
I can tell you as a consumer advocate and civil rights activist exposing child abusers whenever I can, that Mr. Louie has issued outrageous lies against Anthony Williams, because if Williams's truth ever became mainstream, Mr. Louie would be washing toilets in jail.
Here is what Mr. Louie does NOT want you to know about Mr. Williams's (falsely alleged) "molestation" charges:
Williams's drug dealing cousin in Georgia blackmailed him with this fake molestation charge, to retaliate against Williams as detailed below. I personally saw his cousin's threatening blackmail messages. He was jealous of Anthony and angry that Anthony wanted him to stop doing drugs in front of his children, and Anthony did not want to deal with him if he continued with his sick and criminal behavior! If anyone committed "molestation" it was his cousin pointing his finger at Anthony! In fact, his cousin's daughter (the victim) feared being around her dad, (Anthony's cousin) according to discussions I had with Anthony and others in the know.
At first they tried to accuse Anthony's son of doing this, and then they released him because there was no evidence. And now they are going after Anthony, simply because he neglected to fly back at their whim to address an unlawful warrant for his false arrest!
We believe they accused his son as bait to get to his dad!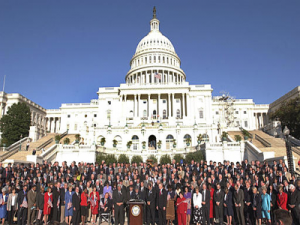 Anthony, at no time, has ever claimed to be a "licensed attorney," and his claims of being a private attorney general (PAG) is completely valid under the U.S. Constitution section 42 USC 1988 and MANY court cases, including ones here in Hawaii. Anyone can become a PAG by studying law in  efforts to help people defend themselves against racketeers and organized criminals that abound in our local courts and government agencies.
My partner, Dr. Horowitz, and I were investigating what Williams was doing in these courts at the time of his arrest, because we too had become victims of foreclosure fraud committed by attorney Paul J. Sulla, Jr.,–in our opinion, among Hawaii's most corrupt lawyers; who is known to Mr. Louie, but consistently neglected by him, enabling Mr. Sulla to continue his charades.
Anthony and his group at http://usacommonlaw.com were working on helping people who were victimized by the banks without a trial by jury, when, in fact, that requires due process and trial by jury to be lawful.
The only people that complained to Mr. Louie, to our knowledge, were the judges and lawyers that Anthony went up against in recent weeks. He is a HUGE threat to their "good ole boys" network, and they are working to take him out.
What Williams has done for me and so many others is pull the veil off the entire corruption of the judicial system! He also empowers all the poor people that are victimized by the corrupt system!
Ironically, this past Tuesday I attended a hearing with Anthony Williams for a woman who was a victim of foreclosure fraud and organized crime. Dr. Horowitz was filming Williams for a documentary, and Judge Bert Ayabe and the sheriffs made Horowitz leave the court because they did not want the corrupt proceedings videotaped as evidence. Then Leonard handed me the camera before he left.
The camera was still running when Williams and I asked the question about "WHAT LAW"  prohibits journalists from videotaping public courtroom hearings, and the sheriffs could not answer the question.
Then the Court Clerk stated, "State Supreme Court Rule 5," but Williams and I knew that was no law, just an administrative rule that violates independent journalists First Amendment Rights as a way to control information, the media, and ultimately the way people think and behave like slaves.
In other words, these "rules" diminish our freedoms, and violate our Constitution, civil rights, civil liberties, and much more.
The courts and the States must bring their administrative rules in line with Federal laws and common laws in order to be lawful and have officials not violate their oaths of office.
I was on my way out of the courtroom after Dr. Horowitz exited when the judge told the sheriffs to remove me. I was then suddenly attacked and assaulted by two security guards four times my size and weight! They twisted the camera out of my hand, twisted my arms, made me fall down, then dragged me out of the courtroom. They threw me out in the hallway in front of a dozen witnesses.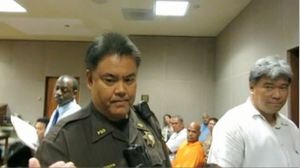 The two sheriffs are shown here (K. Kim [left] and D. Yanagi in plain clothes [right]) demanded that I leave the courthouse after they assaulted me and I was in a great deal of pain. But someone called the paramedics to examine me. They saw my bruises, and recorded the damage from the excessive force used to follow the judge's unlawful instructions to have me removed.
Click on photo to view the assault.
The sheriffs' supervisor, Sargeant M. Murota,  refused to take witness testimonies and claimed that there were no witnesses! Thank God people videotaped each others' testimonies on their cellphones!
After the sheriffs saw how many witnesses there were, and my bruises, they needed an alibi, so they decided to arrest me for "disrupting government ops." when, in fact, my video shows I was very orderly. I had never been arrested before that moment.
Anthony Williams was kind enough to stand by me and go to the hospital with me, alongside my partner Leonard, as two sheriffs were assigned to escort me to jail after the hospital.
Now I went through all of this on Tuesday, Sept. 10, 2013; and on Friday, they arrested Anthony!
Attorney General David Louie defrauded Williams to come to his office for a "meeting" that Williams had requested for more than a month. The media, Channel 2, had already been called by Louie to show up for the arrest, because they were there at the time of the "meeting" according to eye witnesses.
Every political activist in America, and elsewhere, should be following this story, and distributing links to the information that surrounds this case–the greatest legal proceeding in American history since the Emancipation Proclamation.
Please do not fall for the defamatory B.S. issued by David Louie's office.  Anthony Williams is a good man that is taking the heat for each of us while making a great difference in the world!
And to all those who are misjudging Williams based on Louie's lies without seeing any evidence, (and there is none)— to those I say," Judge ye not, lest ye be judged!"
This is some footage we took of Anthony previously: