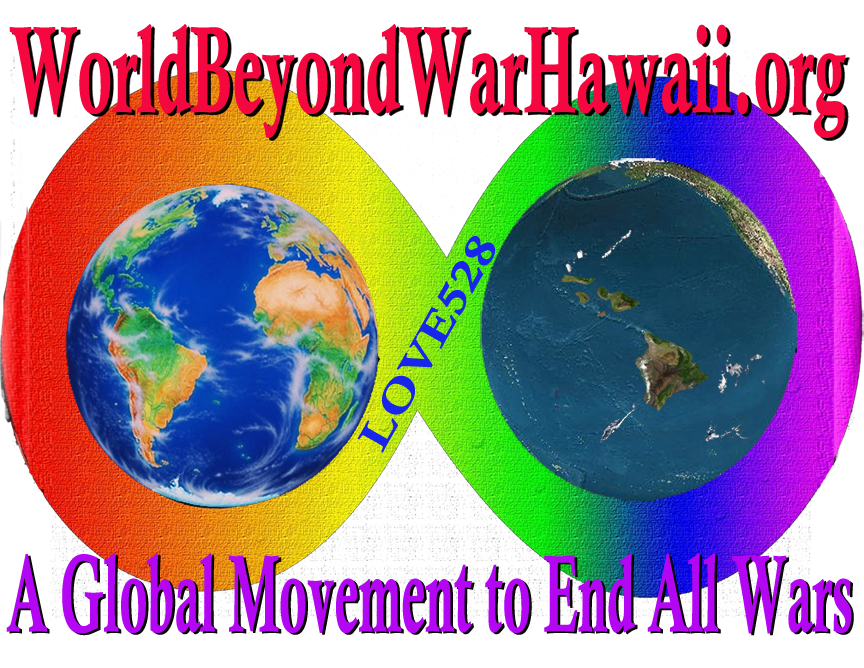 WELCOME TO WORLD BEYOND WAR HAWAII .ORG.
WE ARE HERE IN LOVE/528.
"WAR IS A SYMPTOM OF THE CRIMINAL PSYCHOPATHOLOGY OF WAR MAKERS."
Dr. Leonard G. Horowitz, Pioneer of the "528LOVERevolution"
Their transparent mental illness is sickening.
The damage their transmissible derangement causes society, the economy, the environment, and all biology, cuts against civility.
Peace and harmony sustains nature, not war-makers.
NEWSFLASH: Animals don't kill for sport or profit.
Nature is perma-culturally sustained and doesn't require drug wars or nuclear bombs.
War-makers–arrogant, ignorant, greedy, soulless, racketeers–require psychiatric care, not more support from presidents, political puppets, and media-entranced "sheeple."
Social and commercial freedoms oppose political impositions by multinational corporations. Transparently engineered divisions between the religions, races, ethnicities, nations, and "trading blocks" are acts of War on We the People.  Politicians propose blocking websites claimed to spin lies for one side or another.
They should instead block the propaganda powers abused by the east and west, north and south. Isn't it time to unveil the Wizards of War behind the hypnotronic technology we call "TV?"
Shall we not censor the agents and agencies fomenting international aggression?
The warlords should be gathered-up and banished to places they have already poisoned–such as Kahoâolawe in Hawaii where the land is so scorched it is no longer inhabitable. Alternatively, the Pohakuloa Training Area (PTA) on the Big Island of Hawaii would make a marvelous group therapy encampment. There depleted uranium taints the 108,792 acre military training site. Simply raise the fence to the height Trump envisions for the southern U.S. Corral these menaces in "paradise lost."
This "healing colony" awaits transformation for 'group therapy' featuring guaranteed psychopathic recovery. The only side effect is thyroid cancer from depleted uranium. Here is where the warriors who live in denial of peace and harmony throughout nature should live (at their own, and not taxpayers' expense).
Unless these deranged sub-humans are exiled, the risk of many more species extinctions grossly evidencing ecological emergencies will multiply. Biological, chemical, and nuclear weapons have already decimated world populations, and damaged everyone's health and environmental safety.
It would be just compensation to terminate their commercial contracts and seize their Wall Street accounts fueling their sickness and aggression. Only then will their continuous frightful deceptions cease fanning fears and wickedness to wage war on the weary and everything targetable.
Aren't we all weary enough of wars?
Are you not already sick and tired of combating everything from AIDS and cancers to other people who don't look, speak, or think like you?
Consider autism's sudden skyrocketing emergence in children worldwide linked to toxic pesticides–war against the insect world; GMOs–war against nature's world; and poisonous vaccinations–war against the microbial world. When will you realize enough is enough?
Humanity harvests only morbidity and mortality with every new war fought.
The military-medical-petrochemical-pharmaceutical-banking cartel does not immunized humanity against its impositions, the sources of current and coming plagues and conflicts.
Now is a critical time in history when it has become unconscionable to permit war-makers' mental illness to rule. We the People cannot afford to permit their cronies to prosper, remain neglected, and spread their diseases, weapons, mental illness and death any longer.
We need a World Beyond War. And here it begins with you, most lovingly in the Spirit of Aloha in Hawaii.
For more information about this peace-loving organization in paradise, visit WorldBeyondWarHawaii.org, and our linked websites.
Best wishes for a World Beyond War living in the frequency of LOVE/528 and spirit of Aloha.
Dr. Leonard G. Horowitz and Sherri Kane.
Senior Stewards of the non-profit, un-licensed, consumer protection, public awareness, pacifist organization.
310-877-3002 • P. O. Box 75104 • Honolulu, Hawaii 96836
_____________
FOR INDIVIDUALS SIGNING UP TO OFFER OUR INTERNATIONAL GROUP SUPPORT, CLICK HERE.
FOR ORGANIZATIONS SIGNING UP TO SUPPORT OUR INTERNATIONAL ORGANIZATION, CLICK HERE
FOR INDIVIDUALS AND ORGANIZATIONS VOLUNTEERING TO HOST AN EDUCATIONAL AND MUSICAL EVENT IN HAWAII, E-MAIL: SHERRIKANE@GMAIL.COM.

MAPPING THE WAR MACHINE
When it comes to understanding wars, for some people, a picture of the dead or of the injured or of the traumatized or of those made refugees can be worth ten million words. And, for at least some of us, a picture of where war is in the world can be worth at least a thousand.
Click here for two dozen pictures mapping war and militarism and the struggle for peaceoverlaid on a global image of nations. These are drawn from — and you can create your own with — an online tool for mapping militarism published by World Beyond War at bit.ly/mappingmilitarism. This tool has just been updated with new data. On many of the maps at that link you can scroll back in time to see changes over recent years.
By laying some important facts about war on the map, we're able to recognize some ideas that rarely make it into prose. Here are a few examples:
The war in Afghanistan and the foreign occupation of Afghanistan have officially ended, but a map of the nations with troops still occupying Afghanistan still looks like NATO colonialism.
The list of locations of severe wars changes from year to year but sticks to a certain region of the world — a region in which none of the major producers of the weapons of war and few of the big spenders on war can be found — but from which the bulk of refugees flee and in which the biggest concentration of that violence labeled "terrorism" germinates, these being two of war's many tragic consequences.
The United States dominates the war business, the sale of weapons to other nations, the sale of weapons to poor nations, the sale of weapons to the Middle East, the deployment of troops abroad, spending on its own military, and the number of wars engaged in.
Only Russia is anywhere close to the U.S. in weapons dealing, and this pair of countries nearly splits the vast majority of the nuclear weapons possessed on earth.
Efforts toward peace and disarmament are widespread and coming largely from the less-armed, less bellicose parts of the world, but not entirely.
And those governments that are otherwise doing well by the world tend to be those not engaged in warfare ("humanitarian" warfare or otherwise).
The presentation at http://worldbeyondwar.org/mapwarcan also be found as a "prezi" (a variation on what's more commonly called a powerpoint and used to be called a slide show). You can grab the prezi for your own use at theWorld Beyond War events resources page.
*****
50,000 PEOPLE HAVE NOW PLEDGED TO WORK TO END ALL WAR.
LET'S SHARE THAT AND BUILD MOMENTUM. EMAIL EVERYONE YOU KNOW THIS LINK:
http://worldbeyondwar.org/individual
*****
March 27- April 6 WEEK OF EVENTS EVERYWHERE
It's not too early to start planning yours! Ask us for help!
Thanks!
Peace!
Sign the Declaration of Peace.
Find events all over the world that you can take part in.
Join us on Facebook and Twitter.
Support World Beyond War's work by clicking here.
FIND OUT WHY WE SUPPORT WORLD BEYOND WAR:
    

War making and war funding are out of control.
It's time for a new initiative to reverse the madness.
Please click here to join with World Beyond War, RootsAction.org, United for Peace and Justice, September 11th Families for Peaceful Tomorrows, Watchdog.net, and Progressive Democrats of America in telling Congress the following:
We call on you to help our country turn away from what Martin Luther King Jr. called "the madness of militarism." As a vital step, we urge you to enact legislation to block the use of any U.S. taxpayer funds for continuing warfare, directly or by proxy, in Syria. We further implore you to strive for better relations with Russia instead of fueling the current conflicts that could lead to nuclear annihilation of us all. While defunding endless and disastrous wars as well as cutting wasteful military expenditures, you can provide funds for urgent human and environmental needs.
After signing the petition, please use the tools on the next webpage to share it with your friends.
Background:
> Speech by Martin Luther King Jr. at Western Michigan University (Dec 18th, 1963).
Share on Facebook and Twitter.
Sign the Declaration of Peace.
Find events all over the world that you can take part in.
Join us on Facebook and Twitter.
Support World Beyond War's work by clicking here.
Find out why we support World Beyond War.
TEST