NEWS FROM ISRAEL: LOVE/528 Draws Dolphins For Healing "Party"
More great news comes from Israel where 528 sound healing researchers attracted dolphins with the sound of 528 crystal bowls.
The dolphins became fascinated and came to help during therapy sessions, researchers Amiti Media and Shai Danon in Jerusalem reported. (CLICK HERE to view the clip.)
Their second clip explains, and third clip models, the future of medicine–group "hydro-sonic healing parties" generating ecstasy as well as the bioenergy associated with miraculous healings–528Hz.
Since your body is nearly 80% water, floating in 528Hz resonating water is the most powerful way to get the frequency of LOVE/528–the "Universal Healer"–into you to impact your DNA, bioenergy, and open your heart.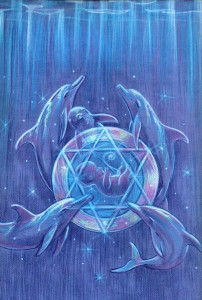 "I am most excited about the novel approach to 'community healing' inspired by Media and Danon in an area of the world most needy for a 528 remedy," says Sherri Kane, who has co-authored may publications with Dr. Horowitz. "Everyone who watches these humanitarian investigators' films comes away with renewed hope for humanity to transcend the tragedy of ignorance regarding how we come from water and can heal best in water. Their work is truly amazing and worth celebrating."
That's what the 528LOVERevolution is all about. (CLICK HERE to view group hydrosonic ecstatic festivities courtesy of Amiti and Shai in Jerusalem.)
CLiCK Revolutionary Cymatics Application to download a press release output by the Israeli investigators.
Check out their website to learn more at ahava528.com.
Contact Shai Danon for more information by e-mailing: haichu528@yahoo.com.