Dr. Leonard G. Horowitz is scheduled to present: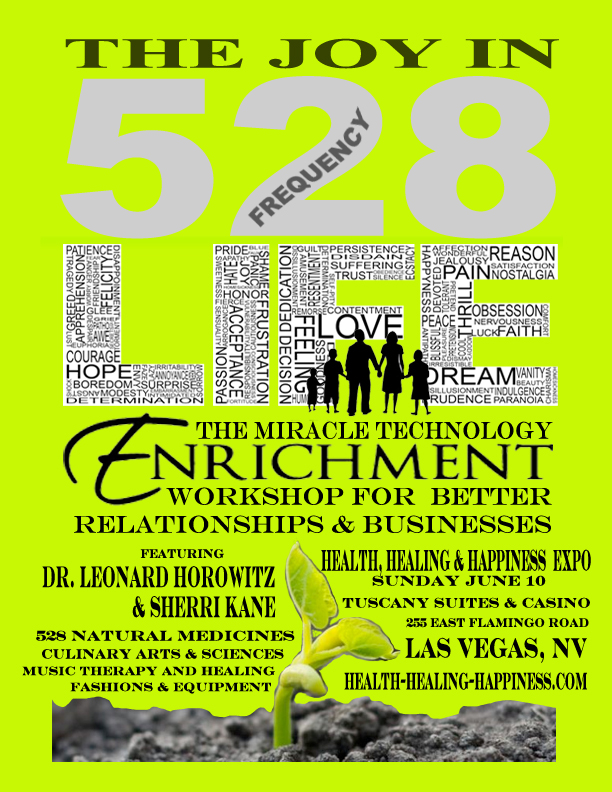 +++
Come One And All to Doctor Leonard G. Horowitz's and Sherri Kane's "The Joy in 528 Life" Workshop.



Click HERE to view Part 1 of "The Amsterdam Presentation" of June, 2018, in three parts.
Click HERE to view Part 2 of "The Amsterdam Presentation" of June, 2018, in three parts.
Click HERE to view Part 3 of "The Amsterdam Presentation" of June, 2018, in three parts.
Press Release
Medical Veritas International, Inc.
For Release After July 11, 2018
Contact: PR Director at info@healthworld.com
Audiences Experience "Medicinal Music," Personal Enrichment, Emotional Releases, "Aha" Surprises, and Spiritual Renewal for Natural Healing Using the Ancient "Miracle 528 Frequency"
A novel, personally enriching, emotionally-uplifting, "group therapy" experience awaits audiences encouraged to sing, dance, and "jam along" with the stars performing two hours of the world's most memorable hits in " Dr. Leonard Horowitz's Modern Medicine Show ". The "multi-media interactive frequency therapy" begins at 7 o'clock in the evening and ends at 10pm with book autographing by the internationally renowned award-winning author, filmmaker, and natural medicine pioneer. Brisk sales of therapeutic "528 frequency" merchandise purchased by delighted audiences is expected at every event, so arrive and shop early, organizers advise.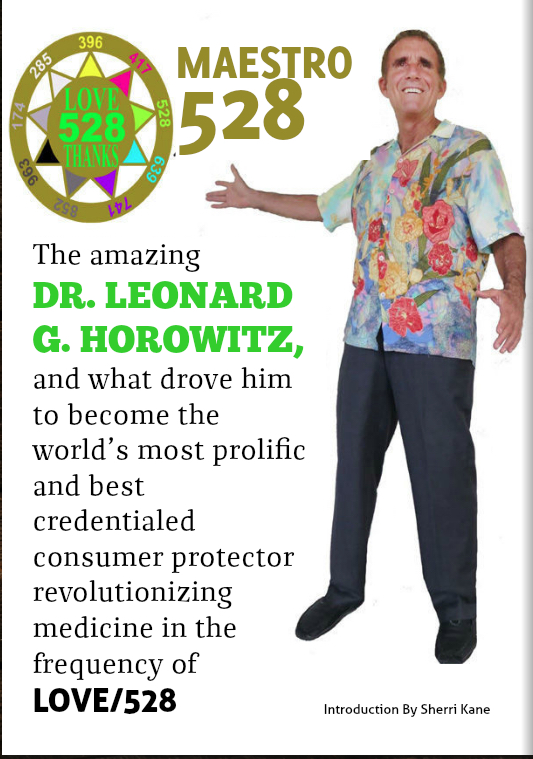 In an era of economic uncertainty, health insurance inadequacy, pandemic cancers and chronic diseases decimating families, threatening plagues annihilating populations, growing discontent with vaccine injuries, masses dying of drug overdoses and toxic side effects, and all life on earth threatened with extinction from petrochemical poisons, the amazing Dr. Horowitz has pioneered an entertaining solution–"Sing, dance, and play-along in the frequency of buzzing bees and the lime green color of chlorophyll," widely known as "the LOVE 528 Frequency"—528Hz/nm–the "MIracle Note" of the original Solfeggio musical scale.
"Love is the 'Universal Healer," music is the "Universal Language," and water that makes up most of your body is the "Universal Solvent" that rejuvenates bodies, sharpens minds, and lifts spirits.
"Hydrotherapy super-conducts the natural sustaining energy of the cosmos," further explains Horowitz. The multi-award-winning Modern Medical Show host has authored nineteen books, three American bestsellers, and six documentary films, including the "Best Film-2016" in London and Geneva film festivals.   Christened "World Leading Intellectual" by the World Organization of Natural Medicine, and the "King David of Natural Healing" by alternative medicine experts, Horowitz is the "Maestro of 528 Frequency Therapy" according to Masters of Health magazine (May 2017). The Harvard-trained public health expert has spent the past quarter century securing natural healing through 528 frequency science. His 528Revolution.com website pioneers "medicinal music" and explains the healing science and great promise.
The celebrity doctor and his partner, investigative journalist and women's health activist, Sherri Kane, launched the 528 Radio Network broadcasting twelve stations at present, freely enjoyed now through 528Radio.com. And the doctor's record company and music remastering software is being used by thousands of recording artists and audiophiles online. Everyone is freely transposing the world's "dissonant" recordings into the "miraculous healing frequency" of 528Hz thanks to Dr. Horowitz and Kane's loving labors.
If you have never heard of Dr. Horowitz, or the 528 frequency, you certainly will. Musicians and natural healers worldwide are buzzing about the "Miracle Tone" of the ancient Solfeggio musical scale heralded by Horowitz in 1998, and later linked to Leonardo da Vinci's "real code based on Aristotle's works in musical-mathematics. It is believed that the Hebrew's hero, King David, played a miraculous healing harp tuned to 528Hz—the "key of the house of David." Incredibly, Horowitz discovered that native music-makers East and West, naturally tune their instruments and voices to this "higher quality" frequency, commonly used in healing and the original devotional chants popular among the first Roman Catholic and Buddhist monks.
APPLYING MODERN TECHNOLOGY TO ANCIENT VIBRATIONAL THERAPY
"Dr. Leonard Horowitz's ' Modern Medicine Show ' " combines the most advanced multi-media technology to remaster many of the world's most popular audio and video recordings to match ancient musical-mathematical frequency discoveries to optimize relaxation, emotional-cleansing, anti-depression, powerful spiritual healing, and restoring physical energy while delighting fun-loving audiences. The pilot event was launched in Las Vegas earlier this summer, and the response was so positive the sponsors, including health food stores and natural nutritional supplement companies, immediately booked return engagements. The list of celebrities virtually performing in the frequency of "LOVE 528" during the event, harmoniously accompanied by Horowitz's band of musicians and vocalists, includes many of the most popular recording artists in history, including John Lennon, The Grateful Dead, Led Zeppelin, Prince, Elvis Presley, Whitney Houston, Bob Marley, Sting, Dylan, Willie Nelson, Ray Charles The Eagles, Jackson Browne and many others.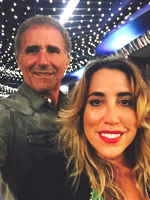 "We spent three years, and more than $125,000, to develop the 528 music frequency transposition software," explained Kane. "We needed to go overseas to find the technical geniuses to do that. Since then, the '528 Public Library' has grown by thousands of tracks uploaded by fans, playing on 528Radio.com in a dozen genres, including classic rock, punk, oldies, blues, ecstatic dance, Christian, country and more."
Researchers allied with Dr. Horowitz determined that many of the greatest hits of all time were originally recorded in 528. More recently, Bono with U2 recorded Iris (Hold Me Close, featured in the Songs of Innocence album) in 528Hz. Likewise, Hawaii's most beloved superstar, "IZ" Kamakawiwoʻole, performed Somewhere Over the Rainbow in 528 on his ukulele to delight more than 200 million Internet viewers.
Commercial support for the "528LOVERevolution" comes from public donations and Dr. Horowitz's nutritional supplement companies. In effect, you have a snowballing international "LOVE 528 Movement" overtaking the performing arts impacting healthcare and medical science.
"These new live events further evolve the doctor's amazing humanitarian medical discoveries," Kane added.
The traveling Modern Medicine Show marries "the real da Vinci code" that Horowitz advanced in The Book of 528: Prosperity Key of LOVE, with audio and video technologies to solve urgent problems facing humanity, medicine and everyone's healthcare, while re-energizing the music industry, and improving the quality of entertainment to be more satisfying, and vibrationally-healing rather than jarring and distressing.
The doctor's discoveries are now being heralded worldwide. The Japanese translation of his book sold out in a year, and prompted a new industry in 528 tuning forks used by devotees to allay fears and treat distress. Colleagues internationally have similarly launched 528 "thera-tainment" projects leveraging Horowitz's knowledge and local resources. Directors of "Ahava 528" in Israel, for instance, conducted a 528Hz frequency hydro-therapy trial in the Sea of Galilee that attracted dolphins and participants in need of emotional releases. The event was so successful the group expanded the public health project to Jerusalem, filling the community swimming pool with more than 70 people blissfully-engaged in the novel "528 hydrotherapy" experience. Thereafter, Ahava 528 practitioners armed with 528 tuning forks that sell for $26, invaded coffee houses to calm distressed clients arguing about disputed borders. Simply striking the fork against a rubber puck and waving it in the air brought peace to that part of the Middle East.
DETRACTORS APPEAR FOOLISH IN LIEU OF THE BENEFITS AND MOUNTING SCIENCE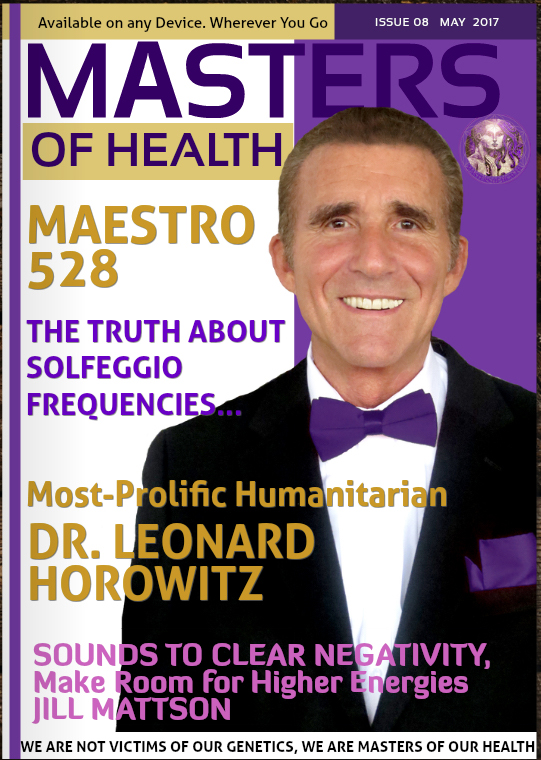 Despite massive supporting science and clinical evidence supporting Horowitz's novel works, a few "skeptics" and online "trolls" still deride the doctor, and compare him to a "snake oil salesman."
"But snake oil salesmen did not give traveling medicine shows and herbal elixirs their bad reputations," the Editor-in-Chief of Medical Veritas journal responded.  "'Big Pharma' did the dirty work. Multinational corporate drug pushers controlling 'modern medicine' and dentistry partnered with chemical companies to squelch homeopathic and chiropractic medicine. They diminished the respect and administration of services by independent nurses and hygienists. They belittled Chinese acupuncture, overtook the natural health products industry, demonized herbal remedies, suppressed various "alternative therapies" smeared as "quackery," and even disparaged religions. They claimed prayer and spiritual practices, East and West, were useless. And this is how private interests gained control over what is arguably an illegal monopoly over healthcare," Dr. Horowitz replied. "Ughh!"
Rather than depersonalized doctors in isolation wards administering healthcare, Horowitz's alternative is perfect for the hospitality industry that competes directly against the hospital industry that profits from morbidity and mortality (diseases and deaths). "An ounce of prevention is worth a pound of cure," the doctor reminds audiences.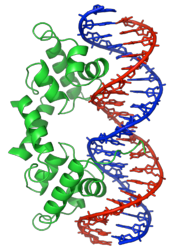 Then there is the bulk of science Dr. Horowitz heralds at the start of each show to prepare listeners for what they are about to hear and feel. He answers the most often asked question, "Can 528 frequency repair damaged DNA?"
"Probably," he responds. "That's a most reasonable presumption based on what we know about DNA, its structure and function as a light and sound receiver and transmitter, literally renewing your physical existence every nano-instant." He points to all DNA being circular and spiraling, contrary to common misapprehensions.
"Without 528 frequency of sound and light there would be no circles whatsoever, and scientists, physicists and geneticists, would not be able to measure anything at all. Remember," he adds, "there are precisely 5280 feet in a measured mile."
Destination resorts, theater restaurants, and especially cruise ships offering pool side video screens and theater-style personal enrichment and health spa activities, are perfectly suited for Dr. Horowitz's traveling Modern Medicine Show. His "LOVE 528 Healing Concert" promises wet or dry audiences certain delights and lasting benefits.
For more information about these offerings, a schedule of upcoming shows, or to book the experience for your community, company, skeptics, or ailing audience, link to 528Revolution.com, click on the events tab there, or e-mail: info@healthyworld.com.
-End-