528WATERSMACKER (dot com)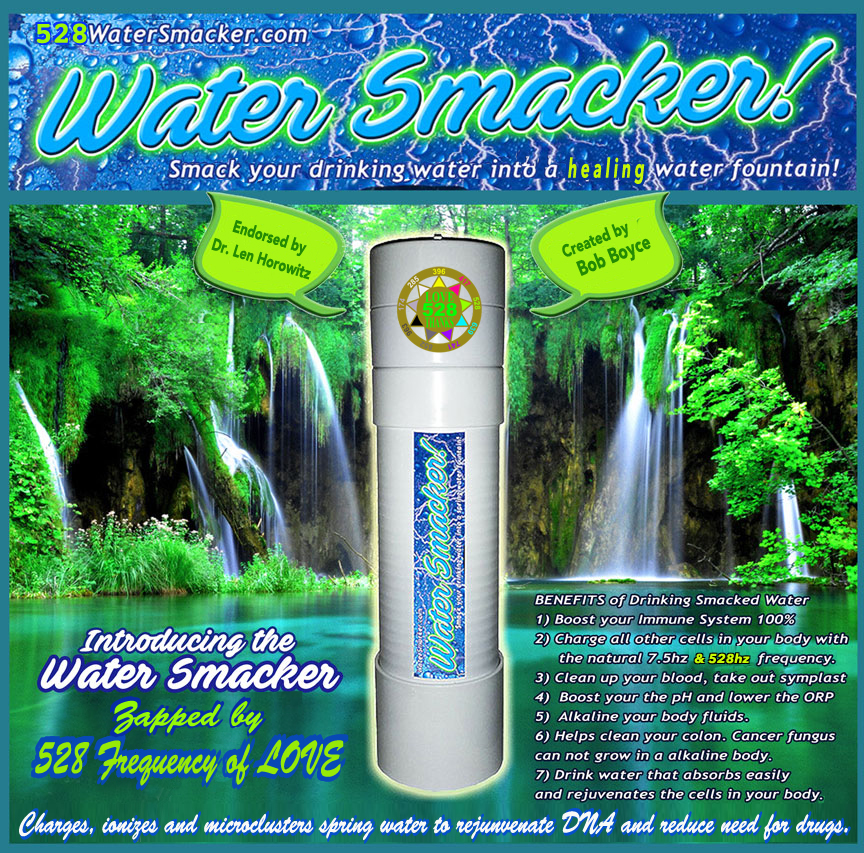 The "528WaterSmacker" combines Tesla technology with the "Love Frequency" to creates micro-clustered, ionized, energized healing water!
Helping solve the greatest problem in medicine
Most diseases are caused by poor hydration, chemical intoxication, genetic predisposition, and inadequate nutrition. The 528 Water Smacker helps heal people by solving these four problems every day, all at once.
Introducing the 528WaterSmacker: How and why it works
Inventor Bob Boyce developed the Water Smacker (WS) based on Tesla technology. The WS resonates the water at the Schumann energy frequency of 7.83Hz. The water becomes micro-structured at this frequency. As this is happening, this energy is supplemented by Dr. Horowitz's invention—the LOVE 528 Coaster. These 528 energy coasters broadcast 528 frequency of sound and light through the crystalline matrix to the water empowered by a 13,000 Gauss magnet. The magnetic field is directed into the water bottle by the north pole of the magnet. These two energies 7.83 and 528 restore nature's most powerful grounding and healing frequencies to the water. You get the Earth's energy along with the "frequency of LOVE/528Hz" when you position the LOVE 528 Coaster beneath the smacking bottle.
In summary, the entire smacking unit works by charging the water with not only Earth's natural Schumann energy (7.83Hz), but also the "Miracle frequency" of the original Solfeggio scale—528Hz.
The Schumann energy grounds and "mellows-out" your body to have you resonate in sync with life on earth. The 528Hz frequency is believed to help repair damaged DNA, while 528nm of light at the heart of the electromagnetic color spectrum was naturally selected by chlorophyll to fill the air with "electrons of love" broadcasting greenish-yellow light that also relieves stress, generates energy for life, and promotes healing. (Honey bees buzz at 528Hz.)
This combined technology uses only 2 watts of power! Assuming you leave this unit on 24/7, you would use only 48 total watts of power per day. That is very small. So you can charge water for 24 hours to fully micro-cluster the water for the full benefits at a very small price.
Use thin plastic bottles for "smacking"
The 528 Water Smacker comes with a 48 oz. clear (PET) plastic lab-grade non-toxic bottle. You can also use other 32oz to 48oz safe plastic bottles. PET plastic bottles can be purchased locally. There are two reasons you should never use glass bottles in this case: (1) because the glass robs some of the electroenergy from the water when "smacking;" and (2) glass will eventually short–out the unit and VOID the WARRANTY.
Research shows that thin plastic bottles work best for water charging.  PET clear plastic has the correct dielectric properties. Too thick plastic will also not work as well.
Many people are wisely concerned about PET plastic as being a toxic petroleum product. We would prefer not to use any plastic, but it is the best material we can get for this technology. The greatest danger in using PET plastic comes with expose to sunlight for long periods of time. So keep you plastic bottles away from sunlight.
Some sensitive people may smell plastic when first opening the box. This comes from the plastic components or bonding agents used in the construction. This odor will disappear as soon as you rinse the bottle. If you are concerned, charge and discard your first bottle of smacked water.
Other bottles that you can use are available as follows: Trader Joe's (i.e., the 50.7oz, alkaline water blue bottle); Smart Water bottle (50 oz.); Evian tall 1.5L bottle; Crystal Geyser Spring Water 1.5L bottle sold at Dollar Stores; Deja Vu blue bottle.
NEVER USE glass, aluminum, or stainless steel flasks, or any metal bottles. They will damage the technology. Metal bottles will short out these units. Otherwise, this invention will last many years if you NEVER put a metal (e.g., stainless steel) container in the resonance chamber!
Selecting water to smack considering pH and taste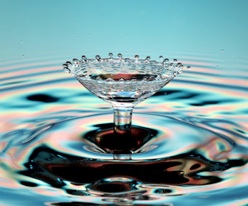 The FDA does not monitor water quality in the bottle water business. This is sad, because much of the water sold today is poisonous. We recommend using a good quality spring water. If that is unavailable, use filtered drinking water. If that is not available either, use reverse osmosis (R.O.) water.
We have found that Arrowhead and Crystal Geyser spring water works best with our Water Smackers. Deer Park, Fuji and Evian work okay too. Bottled spring water is better in pH rise than filtered bottled water.
Deer Park Spring water had the highest pH lift (i.e., before and after smacking the water).
We DO NOT RECOMMEND Coke's Dasani, nor Pepsi's Aquafina, nor "Smart Water," because they all have chemical additives. Typical additives include toxic "table salt" (NaCl) for flavor; magnesium sulfate, and potassium chloride.
The pH of Aquafina and Dasani water does not rise well, but this water will still shock you after charging.
Testing pH as a measure of water energy, more acidic water hold less energy and typically less charge. Alkaline water holds the most energy. Smart Water had a low pH (more acid). After smacking, Smart Water's pH only went up to 6.4pH in a 24-hour period. And it tasted strange. Aquafina and Dasani water acts similarly. The pH does not go up very much, but it will still shocks you.
Deer Park spring water had the highest pH lift (before and after smacking the water).
Distilled water, reverse osmosis water, and filtered water all lose minerals. The good news is that they all eliminate chemicals and heavy metals as well. (However, they still contains the ORMUS elements, monoatomic gold, silver and platinum metal groups in a sub atomic spin state.) Smacking these kinds of "dead" water brings them back to life, and enhances the ORMUS energy in them. You can learn more about ORMUS HERE.
Berkey filtered, or Alexapure filtered water, are good waters to smack.
AVOID USING TAP WATER unless you get a 5 stage reverse osmosis filtration system. Chemicals in tap water are poisonous. Fewer people living in urban areas drink straight tap water today due to their awareness of the toxic chemicals added to municipal water sources. Stay away from "chemical water."
Iron in water is okay, and takes a charge faster. Spring water generally contains trace amounts of iron. Fresh spring water from a well or pure mountain stream is best for raising the pH by smacking.
Spring water also contains calcium.
Too much calcium and/or iron in water is not good. It needs to be filtered before using the 528 Water Smacker (WS). Too much calcium in your water can ruin the delicate WS technology and void the warranty.
Whatever is "alive" in the water will stay alive, even be enhanced, by smacking. NOTE: Smacking your water will not kill any microbes in the water.
Taste testing your smacked water, potency and pH
Do a taste test, before and after using 2 glasses of water. Smacked water has smaller (micro-clustered) water molecules. These feel silkier to your tongue, and taste better. Smacked water also quenches thirst better!
Your smacked water will stay charged in the charging bottle for 3 days, then the energy will dissipate without refrigeration. You can pour the water into a travel canteen and expect it to stay charged for up to 3 days. But the charge will get weaker (i.e., decays) as the days go by. For this reason, it is best to drink smacked water right away to get the most benefits. Read the .pdf file "Negative hydrogen for positive health"
You can do a taste test and pH test before and after smacking water for 24 hours. Generally, water tastes better when it is charged. This is strange, because bitter foods contain more alkalizing electrons than sweet foods. Smacked water should taste better (a little silkier and sweeter) than un-smacked water.
If your water tastes strange after smacking, then it was probably polluted at its source. Do not drink chlorinated, fluoridated, polluted water. Your own taste buds will let you know is water is bad. Listen to your body!
Tap water, and bottled water in stores, typically pours at 7.0 pH. Shelf life of store water can be 6 months, and the water can become more acidic (and less energized) as time passes, (e.g., 6.0pH) As water energy is lost it becomes more acidic and disease-inducing.
The 528 Water Smacker will typically raise the pH of water that has lost its energy while sitting on store shelves. The water pH will rise, back up to 7.0 or 7.5pH as a result of smacking.
There is general consensus that negatively charged water is best to drink to raise the pH of your body chemistry. Raising your pH helps flush toxins from your body, as you pee out acids (+) and absorb alkalized (charged) water.
Some people have recorded a rise in their blood pH, and/or saliva pH, after drinking smacked water for two weeks.
Some researchers claim that most stomachs cannot handle alkalized water over 8.5pH. You simply pee out the excess energy.
The static spark and felt shock
You can prove the 528 Water Smacker is working by touching the smacked water, as already mentioned, or by pour some smacked water onto your finger to feel the shock. This static spark jumps from the water to your finger for the same reason lightening strikes the earth. Because your body maintains less electrons than the smacked water, so it attracts the spark to your more acidic body.
After many months of drinking smacked water, your body pH may rise to the point that this test will no longer work. The spark/shock may go away when your body becomes more alkalized (i.e., more negatively charged with "electrons of love.")
If this happens, and you still want to test the unit, have a friend put his or her finger into the bottle. The "acidic spark jump" will cause them to jump.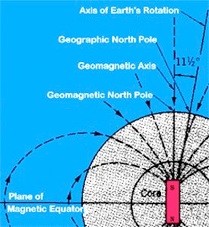 The spark is generated thusly: The outside of the bottle (and you, like the earth) is positively charged (+) and the charged water is negatively charged (-). The spark jump is from negative to positive [(–) to (+)]. The non-Hertzian energy in outer space is negatively charged (–); and the earth's ground is positively charged (+). This is the opposite of electromagnetic AC or DC current.[1]
If you are curious (and brave) try the shock test with and without rubber sole shoes on. For example, go outside barefoot, and stand in your garden or on a cement slab, and try the shock test. The shock will be much stronger due to your grounding to the earth.
The same goes for the neon light bulb test.
The neon lamp test
Included with your purchase is a simple 120v DC NEON lamp tester for testing the WS unit to see if it is working or not.
NEVER TOUCH the wire (cathode) to the inner aluminum shield inside the smacker tube while ON, because it will give you a static shock and may damage the unit. You can see the aluminum shield that lines the inside wall of the resonance chamber. At the center of the smacking chamber is the stainless steel rod. If you follow these instructions, your unit should work well for years.
To test your unit using the neon lamp tester, take off your rubber sole shoes, turn on the WS, turn the WS upside down, so you can view the stainless steel rod inside the resonance chamber. Next, hold one end of the bare wire of the neon lamp tester between your thumb and index finger. (It does not matter which wire end you pinch, nor which hand you use.) Turn on the WS unit, and then bring the other bare wire end close to the stainless steel all threaded rod (i.e., 1/4" to 1/8").
The neon lamp tester works like a multi- E-field antenna. It will alight in the energy field. Watch for slight blue sparks as you bring the bared wire to the end of the rod. You can even touch the rod. This will not short-out the system. The lamp will glow, showing you the WS is functioning properly.
If you want to see a bigger spark and more of a lamp glow, take off your rubber sole shoes. You will be more grounded and the neon lamp will glow brighter. REMEMBER: DO NOT INSERT ANY METAL OBJECTS INSIDE THE RESONANT CHAMBER WHILE ON OR OFF! IT CAN SHORT OUT THE UNIT and voids the warranty.
The neon lamp's glow will show the unit is working and ready to smack water. You can also hear the static blue spark crackle. This is how you can actually view the true non-Hertzian energy that Nikola Tesle discovered and experimented with in Colorado Springs. What you are witnessing is 8,000 volts x .001 micro amp. This is similar to static electricity. Static electrifcity, magnetic energy, and non-Hertzian energy all work together. The power of nature from the "big dyno" in every galaxy generates this energy. Researcher believe this energy comes from the black hole(s) in our galaxy. This should be the "free energy" that saves civilization from "involuntary servitude" to the energy cartel. This free energy threatens the Deep State and their National Security commercial protection racket. This is not in humanity's benefit to conceal or discredit this free energy technology.
(Do NOT test the neon bulb in a 120v AC wall socket, it will fry the bulb. The bulb may even explode! It is DC only or a test for non-Hertzain energy.)[2]
Replenishing and consuming your charged water
Fill your "smacking bottle" with a good quality spring water, such as Arrowhead or Chrystal Geyser . Do not use distilled water because it does not hold the charge as well. Start by charging your spring water for 24 to 48 hours. (Usually, spring water is well charged after 24 hours.) After the charge time, pour an 8 ounce glass of water and drink it, and refill the bottle. Bottles filled with at least ½ charged water will recharge faster. In 2 to 4 hours, your filled bottle will be recharged, because the charged water spreads that charge to the new (uncharged) water. This way, you can keep producing your healing water.
You can also get into the habit of changing-out charged bottles every morning or evening. Cap and refrigerate each charged bottle to build up a good supply. One unit typically smacks enough water for two people to get plenty of charged water per day.
BEWARE! Do not drink from the "charging bottle" after charging over- night, because it will shock your lips with a static charge! This is the reason this technology is called a "Water Smacker."
To test your unit and smacked water, you can put your clean finger into the bottle or a poured glass, and simply touch the water. IT WILL SHOCK YOU! This will not damage you in any way, but it will surprise you, so BEWARE.
Medical claims disclaimer, benefits and limited risks
Although we recommend 528 smacked water for various ailments, including for cancer patients and auto-immune disease sufferers, we make no claims other than the following:
(1) Drinking higher pH smacked water will raise your body's pH. This boosts immunity against many types of diseases. An alkalized body, maintaining higher pH (7.6-7.8) will oppose the growth of cancers. Cancers generally only grow well in acidic bodies. Many cancers have been reported cured by people drinking charged, alkaline, or micro-clustered water.
(2) Drinking charged, alkaline, micro-clustered water will help purge the body of toxins and blood vessel restrictions, helping blood flow and reducing risks of heart attacks over time. Drinking smacked water for 30 days has been reported by users to show positive results, with users reporting better health and more energy.
(3) Taking nutritional supplements or medicines around the time smacked water is consumed substantially increases the amount of the substance entering cells and asserting effects.
These smaller micro-clustered water molecules will absorb into your cells faster and carry more nutrients, or even drugs. They will enter your cells and tissues faster and in higher concentrations. This can have both positive and negative impacts. The positive impact is that you can use smacked water to increase the absorption of nutrients, nutritional supplements, and drugs. That means you will get greater benefit from your food, costly supplements—vitamins, minerals, enzymes, hormones etc., and medicines. The bad news is also really good. You can cut back on your use of dangerous drugs.
We caution drug users who medicate themselves around the time they consume smacked water. Consult with your medical doctor if you plan to test this claim. A suggested test might be to cut in half or 1/3 the dose of your prescription when taking the medicine with smacked water, because it is likely you will receive the same intended benefit, at 1/3 to ½ the dose, cost, and risk. You can save money and possibly prevent drug side effects by using smacked water around the time you consume supplements or medicines.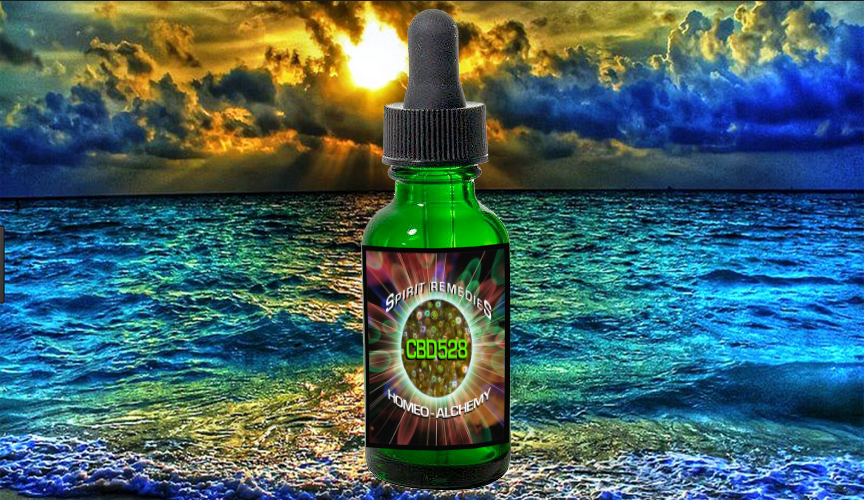 (4) Smacked water is ideal for increasing the effects and benefits of homeopathic remedies, Bach flower essences, herbal tinctures, and medicinal spices. For example, Dr. Horowitz's CBD528 homeopathic has been reported to help ween people off of addictive opioids while reducing pain and anxiety and promoting mental health. This can be added to smacked water for increased benefits. Three (3) drops of CBD528 in an eight (8) ounce glass of smacked water can be used for this enhanced benefit.
(5) We further claim that the 528 Water Smacker is NOT A MEDICAL DEVICE.
Contact information
For more information about the 528 Water Smacker, visit WaterSmacker.com that includes testimonies, reported benefits, and videos. Watch the blood doctor video.  Watch also Dr. Horowitz's amazing presentation and demonstration at the American Academy of Anti-Aging Medicine (A4M) on "Hydro-engineering Freedom from Infectious Diseases." Or contact us with sales questions at info@healthyworldstore.com or 310-877-3002; or with technical questions call 805-995-4809, or e-mail: info@watersmacker.com.
[1] We are not taught non-Hertzian electro-chemistry at school, because the energy industrialists don't want Tesle's knowledge and technology to compete against their utility companies. The truth about natural (ambient) energy systems would put dams and petro-companies out of business.
[2] If the green led light does not come on, you may need a new wall wart transformer that plugs into your wall socket to charge the system. We will replace the one that comes with your purchase if it fails within a 2-year period. We offer a 2-year warranty because Bob Boyce, the inventor of the WS, says the circuit cannot short and should last indefinitely, but cheap 12v wall transformers can go out. Any 12v wall wart transformer (x .5 amp to 2 amps) will work, but cannot be over 15v. A 3 prong grounded wall wart transformer is a must! These are hard to find these days. Ours is 12.3 volts output. If yours fails contact info@watersmacker.com We will supply a new one. You must use the 3-prong grounded plug for the WS to work properly. 2 prong cords will work, but will damage the wall transformer after a time. This may take weeks or months, but one day it will "fry." So only use a 3-prong cord, like the one supplied.
Please read all the instructions before producing your first charged water bottle.
528 Water Smacker Instructions (updated 6/3/18).